Is Government Receivable Financing Available for Small Businesses?
Factoring Government Invoices to Fund Payroll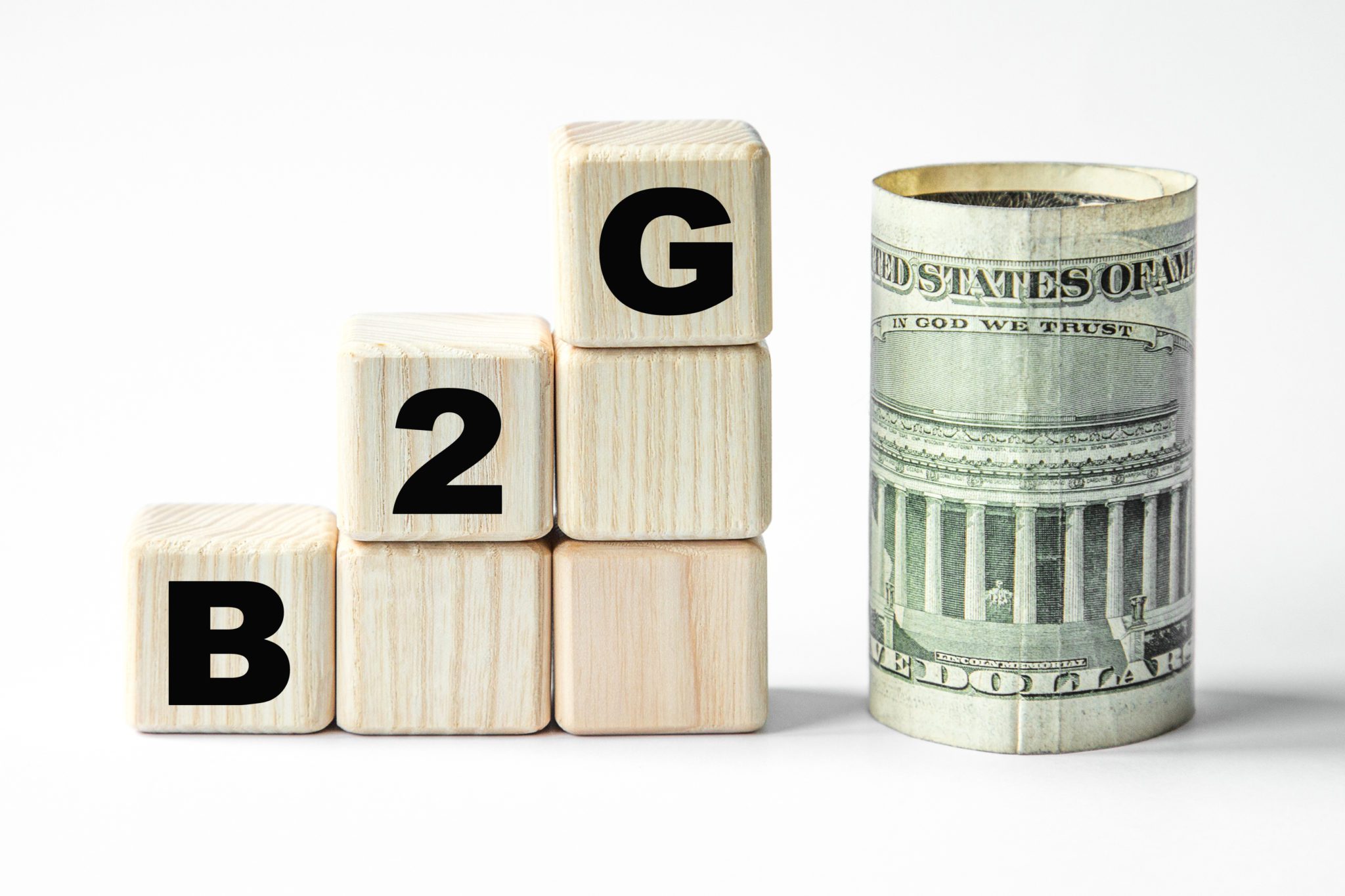 $145 Billion in Government Orders for Small Businesses
In 2021, the US Government awarded over $145 billion in procurement contracts to small businesses. Even better for startups, entrepreneurs, and small businesses is the government's "small business set-asides program." The small business set-asides limit certain contracts for only small businesses. Factoring government receivables is a great funding solution for new government contractors. We can also offer you a letter of comfort to capture more government contracts. Why have a government job when you can make more money as a federal government contractor?
If your small business is struggling with cash flow, government contract factoring can help improve your cash position. Funding Programs exist for Latino-owned businesses and Veteran-Owned Businesses, too.
Government contract financing
In addition, government contract invoice factoring works in any industry, from disaster recovery, staffing, technology, agriculture, trucking, and wholesalers. This is great news for any of the 31 million US-based small businesses.
However, bidding for government contracts can be a world of unknowns if you have never applied before. But the experience of winning government contracts is rewarding and helps your business generate new cash flow. We fund government contracts throughout the United States, from Hawaii to Florida and from Alaska to New York; government contract factoring with great customer service has been our passion for 20+ years. We have funded state and federal government level Department of Transportation and Department of Defense contractors, too.
But like other commercial entities, the government requires extended payment terms of 30, 60, or even 90 days. As startups, small businesses, and entrepreneurs, we need to generate new revenue, but we need effective cash flow management. In addition, it is difficult to qualify for a bank loan as a new government contractor. We aren't credit rating driven like traditional lenders.
That's why Bankers Factoring provides Non-Recourse Accounts Receivable (A/R) Factoring to businesses of all sizes to remove the cash flow burden. So, when your startup wins a government award through the System for Award Management (SAM), we are here to ensure you do not have to wait up to 90 days or longer for payment.
Why Do Government Contractors Use Factor Financing?
Poor cash flow management
Many contractors must cover one to three months' worth of payroll, marketing, overhead, and inventory expenses while waiting for payment with extended payment terms. Working capital is a real issue of federal government contracts.
Missed sales and growth opportunities
Startups and entrepreneurs typically lack the liquidity or working capital to acquire new customers. That's because new sales require inventory expansion, increased staffing, and covering expenses for the business owner. But without cash reserves, small businesses miss new sales opportunities.
Payroll Funding
Many government contractors provide staffing services that require weekly or bi-weekly payroll expenses to contract staff. Still, it is difficult for businesses with a contract award to keep up with these payment demands when they are paid once every three months. But payroll funding through government factoring helps clients retain employees in a tight labor market.
Many business owners take costly Merchant Cash Advances after they are denied traditional financing from a bank. However, with non-recourse invoice factoring, Bankers Factoring helps businesses avoid expensive financial mistakes from high-interest debt.
Government invoice factoring is also called contract factoring and government factoring financing.
What is Government Factoring Financing?
Contract factoring is a form of commercial financing businesses use to access working capital by selling their open invoices or receivables. Government Invoice Factoring Financing removes cash flow gaps by helping contractors sell their invoices for immediate funding.
Additionally, factoring is a great business financing vehicle for government contractors with no debt on your balance sheet. Even better, the approval of factor financing relies on the creditworthiness of the payable customer for your A/Rs. In fact, your business customer is also called the account debtor. Thus, the account debtor's credit and payment history qualify your business for factoring, not your business or personal credit scores.
Startups, entrepreneurs, and small businesses lacking financial history or credibility can leverage their government contracts to generate consistent cash flow. Bankers Factoring also works with new government contractors who are not yet fundable from traditional lenders. We can also provide an easy funding process and a cash-flow solution for your government contracting company.
To learn more, visit our Government Factoring Guide to learn about the federal acquisition regulations or FAR. In fact, many factoring companies don't have a government contract funding group and cant help you with government contract financing.
How does Government Contract Factoring Financing Work?
Government factoring financing is a simple process that involves Bankers Factoring (the factoring company), our client with the open government receivables, and the government entity (the account debtor). In short, invoice factoring transactions follow a standard four-step process.
Government Factoring Transaction Process
The client invoices their government customer (the account debtor) for delivered and completed work.
The client sells their government receivables to Bankers Factoring by completing the funding application.
Bankers Factoring approves the transaction and funds up to 92% of the invoice value – on the same day as approval.
When the account debtor pays the invoice, Bankers Factoring issues the rebates or the remaining open invoice value, less our factoring fee.
Visit our Frequently Asked Questions (FAQ) section to learn more.
How Does Government Factoring Benefit My Business?
The main benefit of government factoring is the immediate cash funding for cash-strapped government contractors. Once your business sells its open government receivables to Bankers Factoring, your company receives up to 92% of the invoice value the same day as approval.
Invoice factoring is a tool to fund your business operations and service your government contracts consistently. Your customized factoring program will provide a cash flow management plan to meet weekly, monthly, and quarterly obligations. Factoring removes the burden of long days outstanding (DSO) – no more waiting three months for payment.
Factoring financing helps government contracts with their business expenses, from payroll funding to insurance, rent, and vendor payments. Invoice factoring allows businesses to secure funding and acquire more resources when needed.
Invoice factoring funding can be used for any business expense. Entrepreneurs, small businesses, and growing clients often allocate funding to increase internal resources to grow their businesses.
Visit our previous article, "Why Companies Use A/R Factoring," to learn more.
What resources or expenses does government factoring cover?
Vendor Payments
Taxes
Rent or Lease
Plant, Equipment, or physical assets
Sales and Marketing campaigns
How can I qualify for Government Contract Factoring?
Qualifying for government invoice factoring financing is effortless, especially compared to traditional funding. Government Contract Factoring requires our client to have invoices for completed and delivered work to a government agency. Our clients must complete a funding application to seek approval.
To learn more, visit "The Due Diligence Process in Invoice Factoring."
Requirements for Contract Factoring Financing
Sell goods or services to government agencies (B2G)
You must sell goods or services to government agencies and generate an invoice. Without an invoice or accounts receivable, factoring transactions cannot take place.
Invoice for delivered goods or services
Generating an invoice for completed works legally obligates the agency to pay the open invoice. Understanding a payment from the government is its own area of expertise. No invoice means no factoring approval. Progress billing is sometimes acceptable practice in government factoring financing.
No existing liens (claims) on your receivables
Open receivables must not have any other claims by other parties or lenders. Bankers Factoring must take the primary claim, or first position or receivables to qualify. If an existing line of credit or the IRS has a lien on your invoices, we can work to get a subordination. A subordination gives Bankers Factoring the first claim to your receivables. Visit our previous article, "Subordination Agreements with Bankers Factoring," to learn more about government invoice financing with an EIDL or SBA loan in place.
The Bankers Factoring Advantage
Let Bankers Factoring help you with the cash flow challenges of selling to the government with our government contract factoring services.
Ready for the owner-employees of Bankers Factoring to fund your government contracts? Call 866-598-4295 or go to Bankers-Factoring-Application.