Invoice Factoring Companies: How Does Invoice Factoring Finance Work?
What is an Invoice Financing Company? Invoice Factoring Arrangement Explained
How Factoring Work? Sell Your Invoices for Same-Day Working Capital and Bad Debt Protection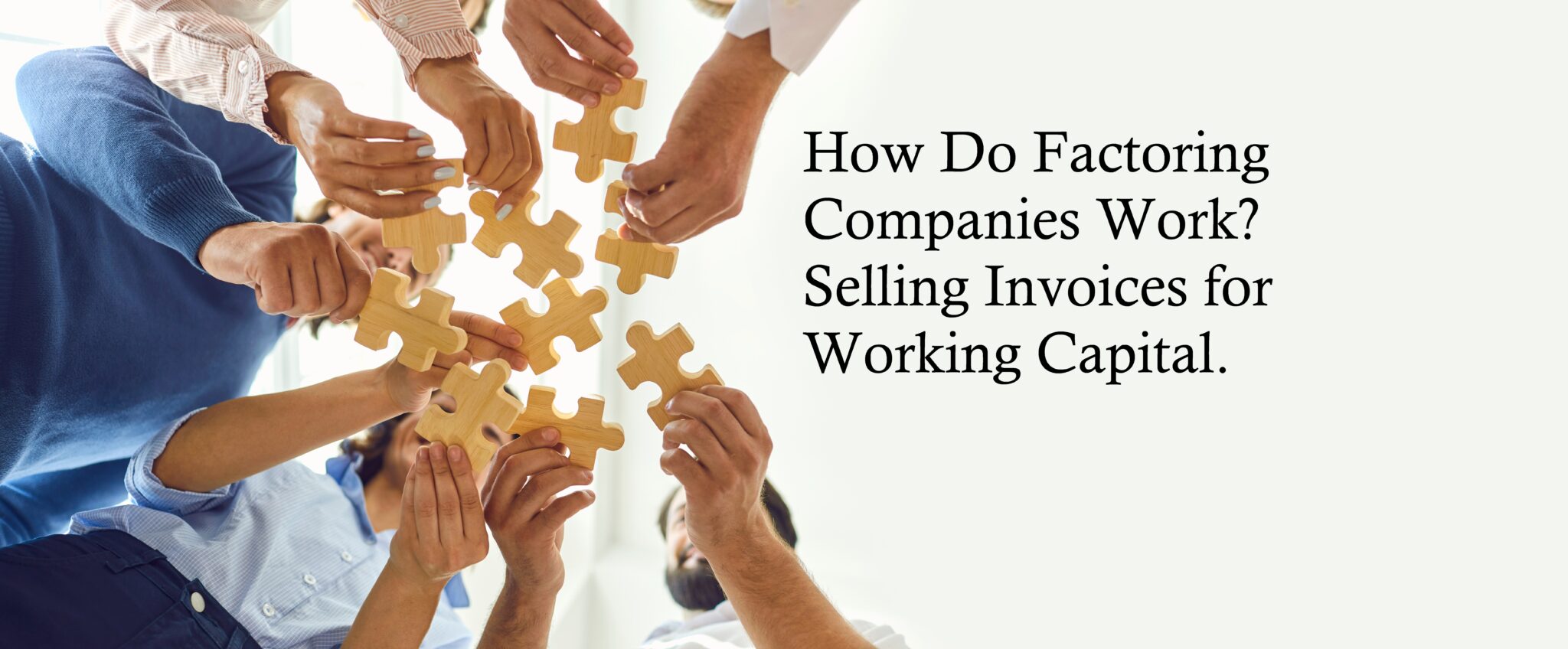 A Factor Buys Your Invoices Every Week for Cash Flow and Peace of Mind
How an Invoice Factoring Company Works
Accounts receivables factoring company services provide cash flow financing and business funding solutions. Factor financing or finance factoring is a fast-funding vehicle for businesses with open invoices. Factor company financing helps businesses extend credit terms without financial stress or strain. A small business selling invoices to the factoring company now versus waiting 30-90 days gives you working capital, and with Bankers Factoring, on a non-recourse basis. Turn unpaid invoices into same-day cash flow via an invoice factoring arrangement with one of the best factoring companies.
How do factoring firms provide financing?
Factor finance, or invoice factoring, is alternative commercial funding for businesses that are not yet bankable by qualified financial institutions. Earlier this year, in 2022, a Federal Reserve Bank of New York survey found that only 16% of small businesses secure the total funding they seek (CNBC). Suppose your small business is struggling with financing. In that case, Contact Bankers Factoring to see how factor finance can inject working capital into your business by turning excellent invoices into same-day working capital as part of an easy-to-understand factoring agreement.
Please read how do factoring companies buy accounts receivables.
What is Invoice Factoring in Business?
Invoice factoring or corporate factoring is a simple process that provides cash funding in 3 to 5 days after sending an online funding application. Moreover, Bankers Factoring can provide fast funding to our clients because we buy their unpaid customer invoices. Factor financing also speeds up the working capital for small businesses without cash savings, lines of credit, or traditional funding. You deliver your products or services without waiting 1-2 months for your customer's payment, thus meeting your capital needs faster.
Keep reading The Best Small Business Factoring Company.
In this invoice factoring article, we cover the following:
How do Factoring Company Services work?
What is factor finance?
How to choose a factoring company?
Why work with a factoring services company?
Advantages of Bankers Factoring services
AR Factoring Finance Company Services
How does an Invoice Factor Company Services work?
Factoring companies provide commercial funding solutions, usually in cash advances, by getting the rights to unpaid accounts receivable (AR). Invoice discounting or factoring financing also helps the not yet-bankable businesses secure funding by using customer credit history. For instance, if you are an entrepreneur with bruised credit but your business has unpaid AR, you can qualify for invoice factoring. All we ask is that Bankers Factoring company collects payment from your creditworthy customers.
Please read What is an Invoice Factoring Company?
Factoring company services are unlike traditional debt funding such as lines of credit or small business loans (SBA). So, when your business sells unpaid invoices to Bankers Factoring, we provide cash advances based on the value of your total AR balance we purchase. In addition, the Bankers Factoring advantage is our non-recourse invoice factoring program, where we provide bad debt protection to our clients at no extra cost against their outstanding invoices. Many factoring companies do not take the credit risk with recourse back to you, giving you a risky and limited invoice financing service.
What is factor finance arrangement?
Factoring A/R invoices is when a business sells its open receivables for cash advances to an invoice factoring company, like Bankers Factoring. Accounts receivable factoring gets you a cash advance of 80-93% against your open invoices as part of your factoring agreement.
You can also buy a business using its accounts receivables for financing and read about a buy-side invoice factoring example with a factoring facility.
When it comes to selling invoices and buying accounts receivable, there are some critical terms:
Amount of the invoice factoring line available to you
The initial cash advance amount against your outstanding invoices. For example, you receive 90% of your invoice amount.
Invoice factoring fees and other invoice factoring charges
Factoring reserve release procedures. For example, releasing your reserve every week versus holding it for 10-15 days.
The receivables factoring line refers to how much cash funding Bankers provide monthly in the factoring agreement. Bankers Factoring differs from other factors because we add value to our customers with non-recourse factor financing. We take the credit risk of customer bankruptcy default. Most factoring companies will charge back the invoice value at 60-90 days because they are recourse factoring companies and with rates higher than a business credit card.
A Non-Recourse Invoice Factoring Arrangement
Non-recourse factoring is where the factoring company provides AR insurance (bad debt protection) from customer insolvency, bankruptcy, or short pay. At Bankers Factoring, we provide initial cash advances of up to 93% on top of giving credit protection. Submit an online funding application if your business has working capital shortages and wants to enjoy the advantages of invoice factoring.
Read our article, credit insurance versus bad debt protection for business owners looking at invoice financing versus buying credit insurance.
Why work with an invoice factoring services company?
Not all entrepreneurs, small business owners, or startups know about AR factoring financing or discount factoring. Working with a factoring services company provides refined financial strength to its factoring clients. Factoring invoices provides businesses with a line of trusted and regular cash flow. Bankers Factoring offers a flexible facility that increases as your business grows. Once small businesses get rid of the cash flow gaps from invoice factoring, they can finally acquire new customers and reach new revenue levels.
You can also read Why Sell your Accounts Receivable? to a factoring company.
Advantages and Benefits of Bankers Factoring Finance Services:
Up to a 93% cash advance rate against your invoice's face value.
An easy factoring application process for your types of factoring.
No hidden fees. Bankers Factoring company takes a small percentage of the invoices.
Have money for raw materials, payroll, and business operations.
A low due diligence fee. Invoice factoring is not a big hit to your profit margins.
Bad debt protection is added at no other factoring costs to your discount rate – we take the non-payment risk.
Qualifying is based on your customer's creditworthiness-business loans and bank loans turndown specialists.
Funding options that are a flexible cash flow line of credit that grows as your monthly receivables increase.
The invoice factoring process is fast with same-day funding of your business-to-business (B2B) invoices.
Our high cash advance rates funding can be used for any business expense.
We offer true supply chain finance-invoice factoring plus PO funding.
Both a short term and long term solution to your working capital business needs.
Same day wire into your business bank account for a fast cash injection.
Cheaper than high interest rates on MCA business credit cards.
We offer selective factoring versus spot factoring once you are set up.
A trusted payroll funding source for significant staffing costs with a high cash advance.
Special factoring programs for trucking companies.
Safely offer payment terms to row your business sales.
Non-recourse debt factoring as the preferred financing method to fix cash flows.
Based on your customer's credit scores and not you or your businesses.
Business loan turndown specialists, small business loan rejections, and programs for bruised personal credit.
Extend credit terms to your customers with factor financing, and we do the credit checks. Stop worrying about unpaid invoices.
An invoice factoring vs a bank line of credit is faster and safer. Quickly improve cash flow and credit score.
As a small business owner, use invoice factoring as needed via selective factoring from our factoring firm.
AR Factoring Finance Company Services
Companies utilize accounts receivables factoring services when they need fast funding or cash flow solutions. It is typical for small businesses to run a tight operation with limited cash savings. Such environments make it hard to meet bi-weekly payroll funding and costs. Waiting up to 90 days for customer payment can cause businesses to shut down. Bankers Factoring helps start financial resources to avoid operational breaks for the not-yet bankable.
When Bankers Factoring buys your invoices thereafter, we will make sure to pay you on the same day. This will speed up the 30, 60, or 90-day wait for customer payment terms. Invoice factoring services provide fast funding to cover operating costs, payroll, and buying material or merchandise.
You can also read Business Financing through Receivable Factoring about our non recourse factoring programs as a financing solution. There isn't a factoring company that gives business owners access to cash faster than Bankers.
The 4 Steps of Factor Financing are:
First Step: Submit an online application with copies of the invoices to a factoring company and receive an invoice financing proposal within 24 hours.
Second Step: Sign the proposal and set up your factor financing account and factoring contract. Send us your invoices as your third-party factoring company of choice.
Third Step: Receive immediate cash advance the same day as setup (Same Day Invoice Financing) by us purchasing or buying your excellent invoices to your customers or account debtor.
Fourth Step: You receive the second cash disbursement (the earned factoring reserve), less the financing companies charge once the customer company pays their invoices. Bankers Factoring is responsible for getting this cash via the invoice payment to the lockbox.
You receive all the above factoring services at a cost cheaper than swiping a credit card. You will enjoy how invoice factoring works at Bankers Factoring. We can also offer invoice factoring vs invoice financing.
Factoring Businesses
Bankers Factoring works with clients to resolve cash flow issues from slow-paying customers through factor funding in growing situations. Our financial experts understand business cash flow and how crucial fast and safe funding is to your business. We want to be your award-winning accounts receivable financing company, and we will work hard to be your best factoring company for invoice financing. You will enjoy how factoring works at Bankers to safely meet your cash needs and the difference between invoice factoring from us and other recourse factoring companies.
Please read what are invoice factoring services as a solution to cash flow problems.
What is Factoring Financing for You?
Sell your invoices to the best factoring company. Invoice factoring from Bankers is simple, your factoring company pays you (us), your customer pays us, and we pay you the balance (reserve) minus the factoring fee. Repeat every day, every week, to get unlimited funding-even with outstanding invoices from slow-paying clients. We want to be your award-winning invoice factoring provider with great customer service.
Bankers offers non-recourse receivables factoring as it should be done for start-ups and fast-growing businesses needing finance factoring. As a business owner, turn your accounts receivables into same-day working capital and never have cash needs shortfalls again with our A/R funding solution. Unlike a financing arrangement at a bank which is balance sheet and credit score driven, we look at your customer's or the account debtors credit.
You will enjoy working with Bankers and our account receivable factoring arrangement-based credit line. Our customers love our easy-to-complete invoice factoring transactions and refer us to new clients every day with our high invoice advance rate and low invoice factoring cost. We are one of the best invoice factoring company.
Interested in working with us and our invoice funding option? The Bankers Factoring Broker Program can help you become a successful invoice factoring broker with an award-winning invoice factoring firm.
Ready for the owner-employees of Bankers Factoring to help you grow your business by safely selling us your accounts receivable? Use our fast online factoring application or call the toll-free number 866-598-4295