Only Six Factoring Companies Named Best of 125 Factoring Companies
Named Best Factoring Company in Both 2022 and 2023.
FactoringClub.com has picked Bankers Factoring as one of the Best Factoring Companies for 2023. Bankers Factoring is honored to receive this designation for the past two years. FactoringClub evaluates the best factoring companies based on customer service, value, and integrity.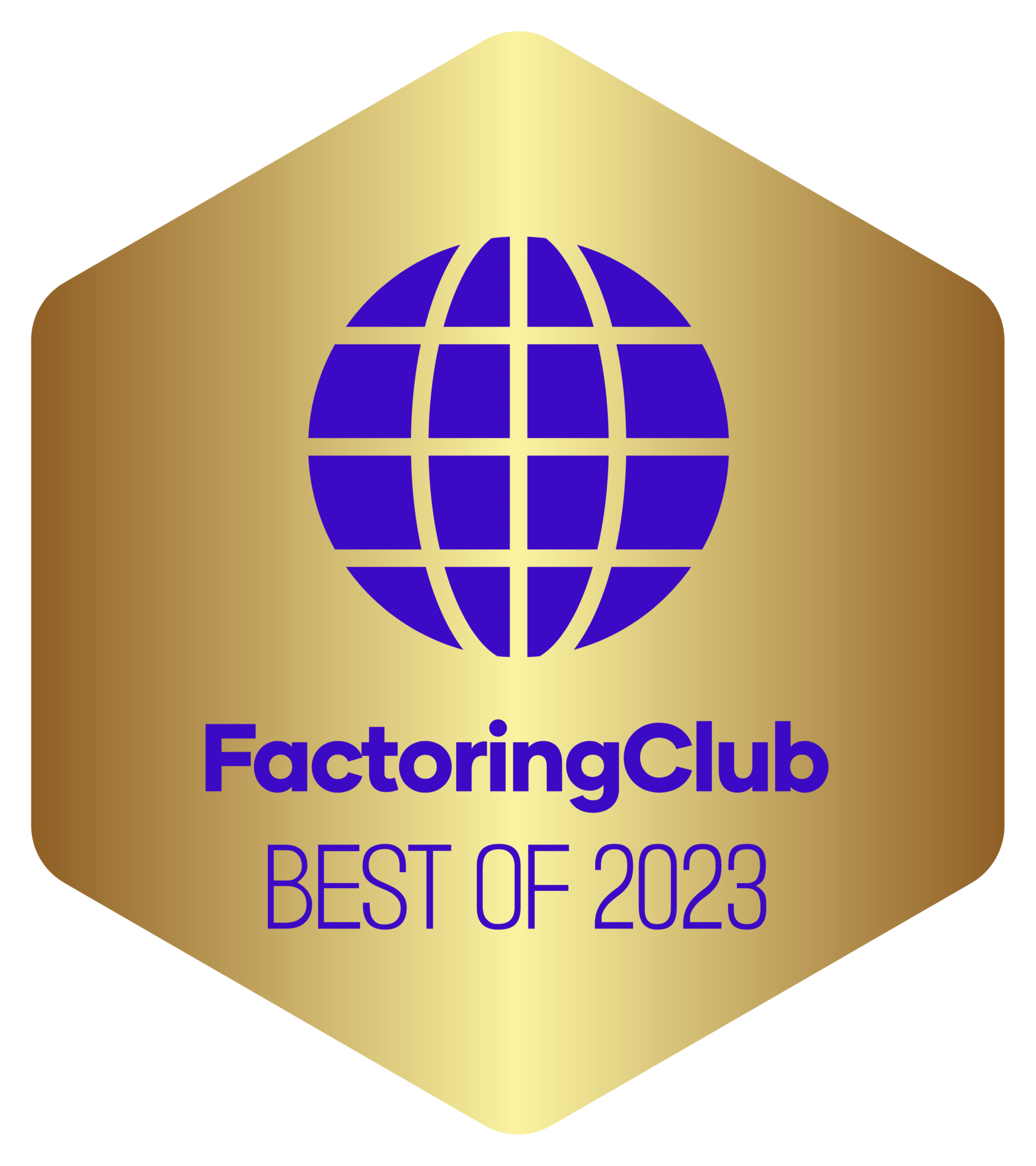 FactoringClub's annual awards program is the factoring industry's most reputable and independent recognition of superior service. Bankers Factoring provides invoice factoring and purchase order financing services to clients nationwide and internationally. As an employee-owned factoring company, Bankers Factoring takes pride in helping entrepreneurs and business owners secure fast working capital.
Read what is a factoring company.
Why factor invoices with Bankers Factoring?
Bankers Factoring offers flexible and cost-efficient factoring services for businesses that need $20,000 to $5,000,000 in monthly funding. Our online funding application allows us to provide financing within 3 to 5 days which removes the burden of cash flow management.
We take pride in providing the Same Day Invoice Financing. Once your account is active, we will immediately deposit your funds at the same day. Businesses rely on fast, reliable, consistent funding to meet their financial responsibility.
Not only does Bankers Factoring provide fast funding but we also protect our clients with The Best Non-recourse Factoring Company Service. Our competitive rates include bad debt protection, which covers your business from the unpaid accounts receivable (A/R) you sell to us. Bankers Factoring takes on the credit risk in our client agreements.
Why Pick Bankers Factoring?
You receive funding within five days of your application.
Your business receives up to 93% cash advances.
You have credit protection from customer bankruptcy, insolvency, or protracted short pay.
We provide A Total A/R Management Solution – we take over your receivable and credit departments.
Access to our 24/7 online reporting portal
No hidden fees – we clearly define and show you the rates or fees you pay with no surprises.
Read factoring company: what it is and your best choice.
What companies work with Bankers Factoring?
Bankers Factoring with startups, entrepreneurs, and established businesses searching for commercial funding. With over 30 years of industry experience, we work with clients in many industries.
Read our previous article, "What Industries Use Invoice Factoring?"
How do I get started with The Best Small Business Factoring Company?
Contact Bankers Factoring today to begin your business funding process. Our factoring experts create tailored a plan for your business and financial situation.
The factoring application process is simple to start factoring invoices and improving your cash flow:
Complete an online funding application.
Receive approval within 3 to 5 days.
Set up your account once approved and receive your initial cash advance of 80-93% the same day.
Once your customers pay the invoices in full, we release the remaining A/R balance, less our small factoring fee.
For more information on invoice factoring, visit our Comprehensive Guide to Factoring Invoices.