Bankers Factoring Locations and Factoring Offices
PO Finance and Invoice Factoring Company Near You
Voted to the best factoring companies list in 2023
Critical Working Capital for Entrepreneurs™
"The Local Bankers Factoring Company Location Near Me"
Please select your state and city below for the nearest local factoring company offices of Bankers Factoring (Bankers). We are constantly adding local factoring offices as we grow to meet our factoring client's working capital and accounts receivable financing needs throughout the United States. Our newest office offering non-recourse invoice factoring services is in Honolulu, Hawaii.
From the Florida Sunshine State to the beauty of Alaska, from Hawaii to New York, we stand ready to help you with your working capital needs to safely grow and cover your operating expenses. We hope you pick Bankers Factoring Company, voted one of the best invoice factoring companies of 2023.
Start-Up and Fast Growth Company Invoice Factoring Programs
Small businesses struggle with cash flow and finding business financing. Turn your good 30-day to 60-day-old accounts receivable into fast working capital. With our same business day funding, safely grow your company with invoice factoring. Get more money from your outstanding invoices at reasonable cost savings that will increase your bottom-line profits. Receivable factoring with immediate cash flow management will take your business to the next level and make your entrepreneurial dreams come true.
Do you need money to buy goods for resale with a good gross margin? We are one of the few award-winning invoice factoring plus purchase order financing companies. With our good reputation, you will like how purchase order financing works at Bankers to fulfill customer orders when traditional bank lending is not available.
A Same-Day Invoice Factoring Company
With our same-day funding timeline after setup, your business becomes so much easier to manage. Turned down for bank financing lending program? Our invoice factoring service is designed for the not-yet-bankable entrepreneur with a low discount rate, reasonable factoring fees, high advance rates, and easy-to-understand pricing and factoring agreement, payment security, and contracts.
And remember, factoring is based on your customer's credit history, not yours. We want to fund your business success whether you are in staffing, manufacturing, importing, logistics, telecom, or contracting.
Small business owners and their people find our full-service receivable factoring line of credit with fast credit checks, is enjoyable with how your account executive treats both them and their customers. That's why we have been one of the best invoice factoring companies for two years with a great track record. Have the right choice among financing options to fuel business growth and fund payroll and supplier costs.
With a long history with trucking companies, we also have special start-up trucking factoring programs for owner-operator truckers, truck drivers, and freight brokers needing high advance rates, load board, a simple factors contract, online report access, and fuel card solutions who want to get paid faster.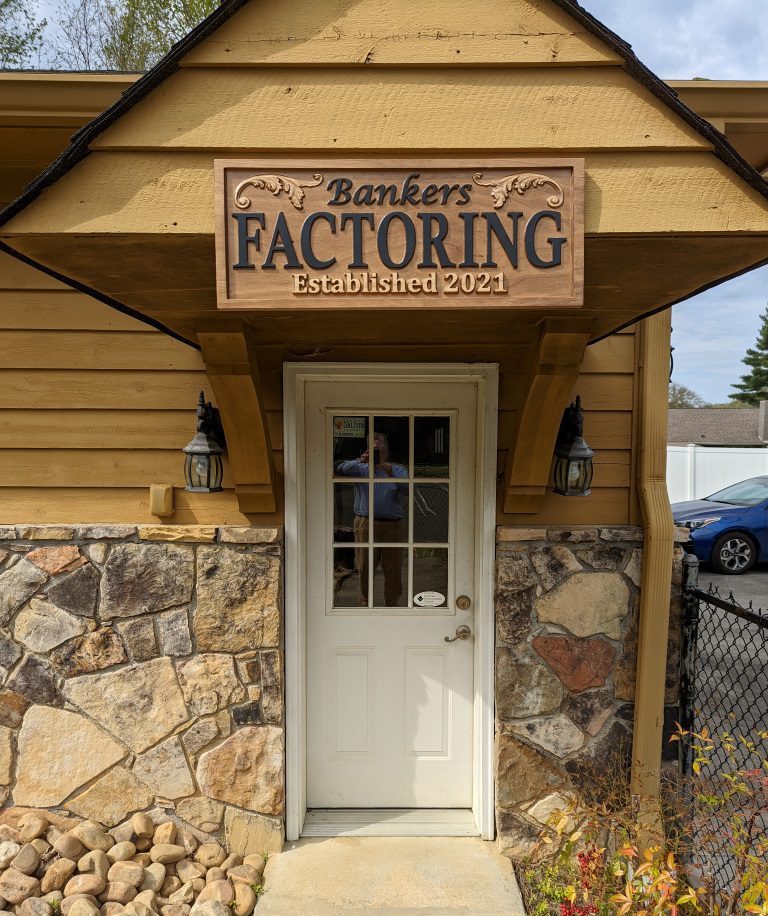 A Local Best Factoring Company Near Me
When you search for the "local invoice factoring company near me," we know you have many choices for invoice factoring companies; employee-owned Bankers Factoring wants to be your anywhere choice and the best solution for same-day, non-recourse receivable factoring services, PO funding, and trade import financing products. People in the trucking business and trucking companies turn to us for their freight factoring account management and to manage their most precious business capital, their A/R made up of their invoice value. Let us prove to you we are one of the best purchase order funding and factoring companies with high advance rates, low fees, and fast pay with a program for a variety of industries.
Unlike a bank, we are not financial statements driven, so when an owner-operator needs fuel discounts and wants to use freight bill factoring for their trucking industry invoices and other factorable industries invoices, we specialize in. Unlike asset-based lending and other factoring companies, factoring invoices, invoice financing, and PO funding is an easy-to-understand and simple process, as it should be at Bankers, an A-rated best factoring company, and the right place for your fast-growing business to turn your customer's purchase order into cash flow.
From Hawaii to Florida, California to Maine, we have an invoice factoring services line of credit ready for you in 24 hours to solve your working capital problem. Safely grow your business with our accounts receivable factoring funds. Please visit our website factoring blog for information about your specific situation and find the best invoice factoring company near me for your cash flow solutions.
Payroll Funding Near Me
Once upon a time, in the bustling city of Fort Worth, Texas, there was a small business owner named Sarah. Sarah had recently started her own staffing company and was excited about the potential for growth and success. However, she soon realized that managing payroll expenses was becoming quite challenging. Turned down for a small business loan, she researched payroll financing companies near her.
Sarah knew that having access to payroll funding near her could help ease the financial burden and ensure that her employees were paid on time. So, she set out to find a payroll funding solution that was conveniently located near her. She found Bankers Factoring, and our payroll factor financing saved her business.
Why Choose Bankers Factoring Company as Your Local Factor and PO Financing Company
You have many choices in factoring companies and factoring services. We have been rated via online reviews as one of the best invoice factoring companies for two years in a row. We hope your small business gives us a chance and choose Bankers. Offering both recourse and non-recourse factoring, you will enjoy the experience of working with our people. Get paid fast with our friendly and efficient back-office personnel and our company's great customer service.
Turned down for a small business loan or SBA loan credit line as a small business owner? Unlike a bank, we are not balance sheet driven for credit approval. We have special programs based on your customer's creditworthiness and not your Fico credit score. We have liquid capital for your business, even start-ups, based on your customer's ability to pay open, unpaid invoices. Based on your customer's credit rating, we are the answer to B2B cash flow issues.
Your Accounts Receivables become Liquid Working Capital
We have special programs in trucking factoring, staffing factoring, and government factoring all accessible in our cloud-based data center with our account management portal and easy-to-understand factoring rates with zero termination fees. And remember, we are one of the few A/R factoring and PO financing companies together. Cash flow problems? Can't take on new orders, even with a good profit margin? Need a high advance rate cash advance with the remaining balance released quickly? Turn purchase orders for finished goods into factorable invoices with Bankers and our fast application process. With our money, your worry over a fulfilled order goes away.
Whether you are a trucking company looking for freight factoring with fuel cards and lower rates or a start-up staffing agency looking for a great option for fast growth, please give us a chance to meet your business needs by turning open purchase order and unpaid invoices into same day working capital for a small factoring fee, no hidden fees, and our flexible factoring services.
You will enjoy the financial services Bankers Factoring offers as one of the best factoring companies with award-winning customer support. And time in business is not important. We fund new companies every day with payroll funding meeting their cash flow needs and believing their dreams of growth potential. Always have working capital in your business bank account with a factoring line of credit,
Ready for the owner-employees of Bankers Factoring to factor your invoices and fund your local company? For a free invoice factoring quote, call 866-598-4295 or go to Bankers-Factoring-Application to get started and receive a funding proposal within 24 hours.