Funding for Latino-Owned Small Businesses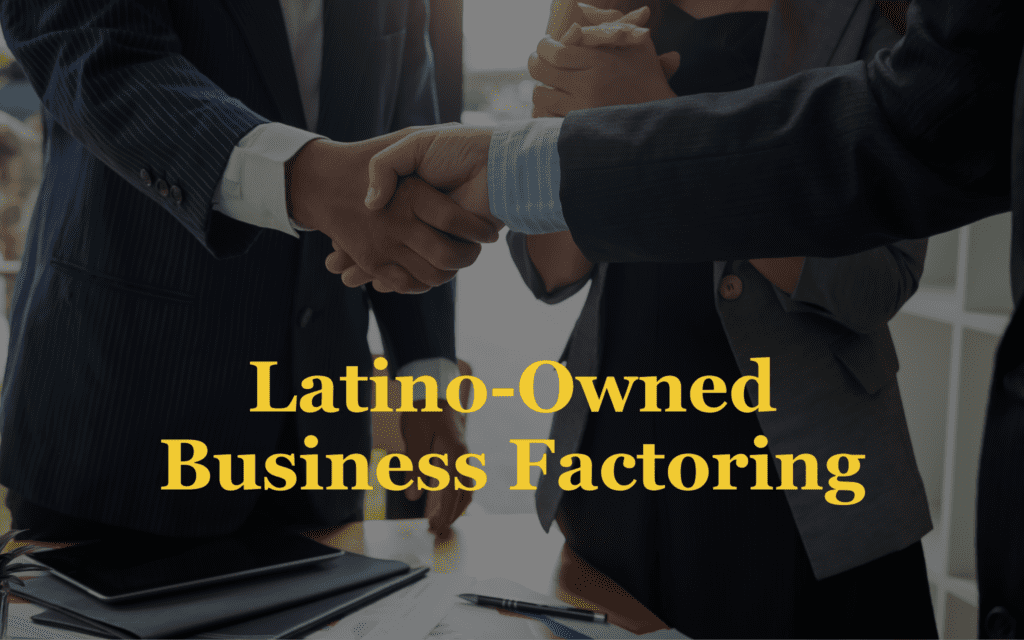 Bankers Factoring Provides Funding for Hispanic-Owned Businesses
Latino-owned businesses, also known as LOBs, are crucial to the United States economy, and their importance cannot be underestimated. States like California, Florida, Texas, and New Mexico have the largest number of LOBs, and without these Latino-owned businesses, their economy, and the US economy, would be nowhere near where it is today. Factoring for Latino-Owned businesses can help you grow.
However, it can be more difficult for Latino-owned businesses to receive small business loans – when Hispanic entrepreneurs start a business, an average of 70% of their funding is sourced from personal savings, as reported by a Stanford study, while only 6% comes from traditional loans. In this same study, only half of 1.3 million LOBs observed were able to secure outside funding and have access to capital.
Turned Down for a Bank Loan?
When bank loans, Small Business Administration (SBA), traditional lines of credit, or giving up equity seem like the only options Hispanic-owned businesses can gain funding through, it is important that you become aware of invoice factoring as an accessible alternative option. Waiting for payment from your customers on 30-90 day payment terms, while unpaid invoices keep stacking up, take back control of your finances for your Latino-owned business by selling your unpaid invoices to Bankers Factoring and receiving a fast and simple cash advance.
Learn more about what invoice factoring means for minority-owned businesses.
You can also read invoice factoring for immigrant owned businesses.
What is Latino-Owned Business Factoring?
Invoice factoring is a creative and reliable financial tool with strong accessibility. With Bankers Factoring, our approval process is quick and simple, and we provide same-day funding after approval, allowing you to leave behind the headache of being stuck on 30-90 day payment terms and receive funding for your Latino-owned business today.
Learn more with our invoice factoring FAQ and about our bad debt protection.
According to a quote from Créditos USA, "The financial tools available to Latinos present a particularly common challenge. If entrepreneurial activity were proportional to population share, Latinos should have three times as many business owners as they do today."
As one of the leading factoring providers in the United States, Bankers Factoring's owner-employees have been working to provide important funding for Hispanic-owned businesses since 1998. With us, your business is in good hands, and as fellow business owners ourselves, we deeply care about the success of your Latino-owned business. We want to see you succeed.
Understand how to obtain financing after business loan denial for underserved communities.
How Is Invoice Factoring Accessible to Hispanic-Owned Businesses?
When searching for financial tools to maintain your Latino-owned company's health, it can be difficult to navigate the many options, and harder still to find financial tools that have accessible approval.
Thankfully, invoice factoring is one of the most accessible financial tools out there. When applying for invoice factoring from Bankers Factoring, our approval process is quick, easy, simple, and pain-free. We require little documentation and little of your time – provide us with your legitimate invoices, and we will take care of the rest.
Read about why factoring companies verify invoices to learn more.
Personal Credit Issues?
Issues with credit? With invoice factoring, if your company is having trouble being approved thanks to issues with credit, you can kiss this issue goodbye. Invoice factoring approval is based on your client's credit instead of yours, providing greater accessibility to companies who have poor credit or are just starting out.
You can also read invoice factoring for woman-owned companies.
Invoice factoring, and especially so with Bankers Factoring, is one of the most affordable forms of funding out there. Our low industry rates even among other invoice factoring companies are even lower than swiping a business credit card, easy to understand, and with no hidden fees. Understand more with our article factoring rates explained.
Understand factoring vs loans.
Why Do Latino Entrepreneurs Need Access to Working Capital?
In the past 10 years, Latino entrepreneurs have started small businesses at a rate of 44%, compared to their non-Latino counterparts at 4%, according to a report by SCORE. And with these statistics in mind, 42.6% of Hispanic small businesses report that cash flow is an ongoing challenge for their business.
Working capital is the most crucial component of small business owners. It is the oil that keeps the cogs running, and without stable, reliable cash flow, any business is doomed to fail. This is why the value that invoice factoring provides of consistent working capital to Latino-owned businesses is crucial to keeping operations running smoothly.
Understand how factoring companies buy accounts receivable.
Why Do Latino Entrepreneurs Hold Great Economic Importance? Research Shows This:
In 2019, the US Census found that Latino-owned businesses contribute 1.85 trillion to the US economy and employ nearly 11.7 million people
Nearly one in four new businesses in the US are Latino-owned
Texas is the third-most Latino-dependent economy in the US – one in five jobs in transportation, warehousing, healthcare, and social assistance in Texas is dependent on Latino-owned businesses
In Florida, Latino-owned businesses create more than 1.7 million jobs
Without Hispanic entrepreneurs in New Mexico, nearly one-fifth of all businesses in the state would be lost
In 2015, the GDP produced by Latino-owned businesses in the US was over 2 trillion, exceeding the GDPs of India, Italy, and Canada
(Statistics from Bloomberg Linea, Stanford, and U.S. Small Business Administration)
Bad Debt Protection from Bankers Factoring
Bankers Factoring offers something truly unique to Latino-owned businesses, even in the factoring world – non-recourse factoring. Non-recourse factoring means that if your client is unable to pay their invoice, we will absorb this loss ourselves, taking on the credit risk and protecting you from bad debt.
When non-payment can be devastating, bad debt protection ensures that your Latino-owned business never meets this fate, and you can rest easy knowing you are safe.
Why Choose Bankers Factoring for Latino-Owned Businesses?
When Hispanic-owned start-ups are not able to secure funding from traditional loan sources, Bankers Factoring provides the solution. With invoice factoring, LOBs are able to access the crucial funding they need to maintain and grow their businesses, allowing them to continue to thrive, all while leaving behind the roadblocks found in traditional loans.
Learn how to talk to your customers about factoring and how factoring's perception is changing.
The Benefits of Working with Bankers Factoring.
Bridging gaps in cash flow
Spanish-speaking account executives – Hablamos Español
Bad debt protection with non-recourse factoring
Innovative and unique funding solutions
Not business plan driven
Low rates and zero hidden fees
24/7 online reporting portal
Access to our decades of knowledge and expertise
Famous Bankers' light touch with your customers
Read more about why choose Bankers Factoring to fund your business growth.
Ready for the owner-employees of Bankers Factoring to grow your Latino-owned business with our award-winning receivable factor financing, including bad debt protection? Use our fast online factoring application or call 866-598-4295.