Immigrant-Owned Business Invoice Factoring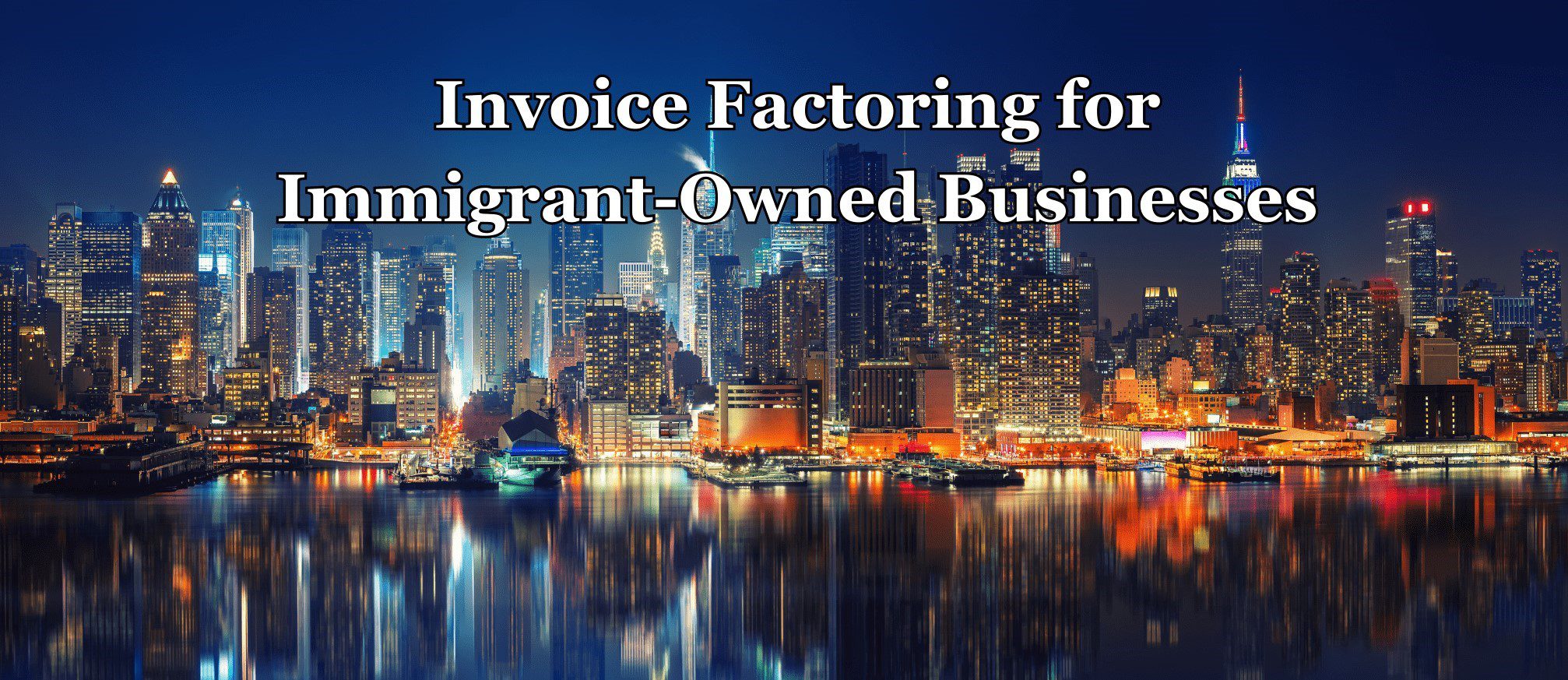 Bankers Factoring Company for Immigrant-Owned Start-Ups
When moving across the world with their hopes high and ready to start the next chapter of their life, many immigrants want to start a new business and create new opportunities in the USA. But when traditional funding seems impossible to receive, and the odds feel against you, this can be difficult. Business grants for immigrants and loans for immigrants exist but are not big enough for B2B or B2G companies.
Immigrants play a huge role in small business growth in the US per Inc magazine.
However, when you are not able to receive traditional funding or a business line of credit, this is not the end of the line for you as an immigrant entrepreneur.
We also have funding programs for women-owned businesses and startup businesses.
A Factoring Company for Immigrant-Owned Businesses
Allow Bankers Factoring to turn this around, providing you with accessible, simple, and reliable funding to help you achieve your entrepreneurial dreams. When traditional funding sources are often inaccessible to immigrants, this is where invoice factoring comes in, and provides funding where immigrants may not otherwise be able to access it.
Since 1998, our owner-employees have been working with businesses to provide funding solutions, and we care about the success of your business as much as you do. With us, all the reasons you couldn't get traditional funding will melt away and become no longer relevant.
You can also buy a business using its existent accounts receivable as collateral.
What is Immigrant-Owned Business Factoring or A/R Factoring?
When your business sells your product or service to your customer, you are often stuck waiting with 30-90 day payment terms. This creates problems where financial obligations need to be met now, and invoice factoring is a financial tool that addresses and remedies these problems.
An A/R factoring company, like Bankers Factoring, will buy your invoice and provide you with an 80-93% cash advance. The factoring company will then take over collecting payment from your customer, and once the payment has been received, the rest of the invoice will be issued to you. This bridges the gaps in cash flow that slow payment creates, providing working capital to your business. Anywhere where cash flow is needed, payments are able to be covered with ease.
Read more about how invoice factoring works and what is an invoice factoring company.
How Does Invoice Factoring Provide Capital Accessibility to Immigrants?
Immigrant-owned businesses are important. In the United States, they can be found in every aspect of the economy. According to the Small Business Administration, roughly 18% of U.S. businesses with employees are immigrant-owned, as well as 23% of U.S. businesses without employees.
When moving across the world and working to support your business, in many ways, you are starting over and creating something entirely new. This can make it difficult to get your business off the ground, and when your company needs funding assistance, many solutions may prove to be inaccessible. However, invoice factoring, as an alternative funding solution, may have the answer to the funding problems you are facing.
Learn about how factoring companies buy accounts receivable.
Funding Problems Immigrants May Encounter, and How Invoice Factoring Helps.
Little or no access to collateral
Bank loans often require collateral when businesses are applying for a loan. This may include items like real estate, inventory, securities, personal guarantees, and more – all things that new immigrants typically do not have access to. With bank loans, if the debt is unable to be paid, collateral acts as insurance to the bank, and these items will be seized. However, invoice factoring with Bankers Factoring has no need for collateral.
With Bankers Factoring, we provide bad debt protection by using non-recourse factoring, meaning that if your customer is unable to pay their invoice, we absorb this risk of non-payment and absorb the credit risk. Because of this, any potential for your business to be in debt from non-payment is eliminated, we have no need for collateral from you, and you are protected from being in bad debt. Because there is no need for collateral, immigrant-owned businesses have access to funding from invoice factoring even when collateral is not available.
You can also read how to obtain financing after a business loan denial.
May not have any credit history
When new to the country, many immigrants do not have a strong credit history. A strong credit history takes years to build up, and a new immigrant simply does not have strong credit built in the USA. The approval process for bank loans often includes credit checks, making being approved for a bank loan difficult to impossible for immigrants. However, invoice factoring does not use credit checks on your business and instead uses credit checks on your customers.
When getting approved with Bankers Factoring, we will be checking your client's creditworthiness and credit reports, and your credit score will not be considered during this process. When you are a new immigrant, it can be stressful trying to build your credit score in a short amount of time, all while in an entirely new environment. Bankers Factoring eliminates this need when it comes to funding, providing you and your business the ability to put these worries of credit scores aside. You may feel like the underdog, but there is every reason that you can succeed.
Read more about traditional loans vs factoring.
Can Undocumented Immigrants Start a Business?
Immigrant-Owned Business Invoice Factoring
When it comes to the United States of America, there is no clear-cut answer to this question. While being an undocumented immigrant in the U.S. is not legal, there are no specific laws barring undocumented immigrants from starting businesses. However, this does not necessarily mean that the door is open for undocumented immigrants to start businesses.
While there is no specific law banning undocumented immigrants from starting businesses in the U.S., there are still many legal penalties that can be encountered, and if you are undocumented, the best course of action is always to consult an immigration lawyer about your situation.
However, if you have a social security number, we can fund your US corporation, unlike many small business loan shops and credit unions.
Additional Benefits of Invoice Factoring for Immigrants with Bankers Factoring.
There are many reasons that immigrants are typically unable to receive access to traditional modes of funding, and invoice factoring can prove to be a great alternative. Here are even more reasons why invoice factoring is a fantastic funding solution.
Named FactoringClub's Best of 2022 and 2023, Bankers Factoring is eager to provide our award-winning factoring services to your immigrant-owned company.
Why Bankers Factoring for Immigrant Entrepreneurs
Clearly defined factoring terms and conditions
Quick and simple application process and approval process
Spanish-speaking account executives
Low rates and no hidden fees – cheaper than a business credit card
Famous Bankers' light touch with your clients
Fees that drop as your business grows
Bad debt protection with nonrecourse factoring
Factoring costs less than many credit card interest rates
24/7 online reporting portal
SBA loan turndown specialists
Solving and bridging gaps in cash flow
Access to our strong knowledge and expertise
Start-Up Factoring Friendly and Habla Español.
Learn more about why choose Bankers Factoring.
Turned down by traditional banks and the SBA? Bankers Factoring is both start-up friendly and can help the entrepreneurial immigrant fund their business dreams with credit-protected invoice factoring.
Ready for the owner-employees of Bankers Factoring to grow your business with our award-winning receivable factor financing, including bad debt protection? Use our fast online factoring application or call 866-598-4295.