An Alabama Factoring Company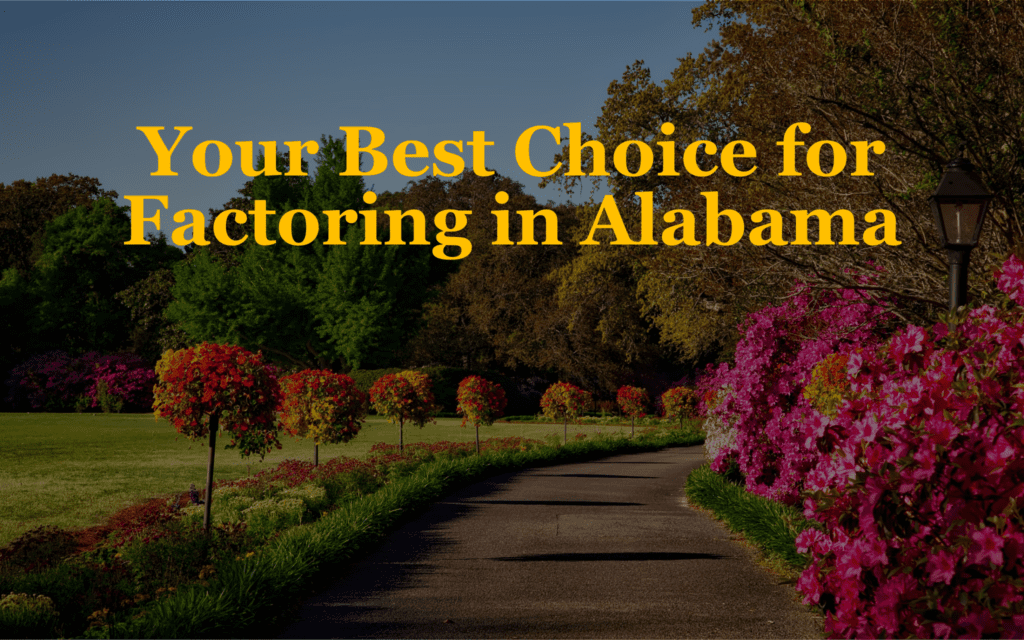 Invoice Factoring in the State of Alabama
With its warm, welcoming community and breathtaking natural landscapes, there is no place like Alabama. Named the state with the best business climate by Business Facilities, Alabama is a top choice for growing and maintaining a business, and more and more entrepreneurs are realizing the benefits of doing business in the Magic City.
No matter whether your Alabama business is a promising startup just beginning to find its footing or a strongly established business with decades of experience, Bankers Factoring is there to support you with our award-winning invoice factoring in the Alabama area.
How Does Invoice Factoring Work in Alabama?
When your Alabama business needs funding now, you don't need to wait around on 30-90 payment terms. Instead, take control of your own destiny and financial health by choosing invoice factoring with Bankers Factoring.
Once your Alabama business has completed a sale to your customer and has billed them for the transaction, an invoice has now been created. When these invoices are on 30-90 day payment terms, and you can't afford to wait, you can now sell these unpaid invoices to an invoice factoring company like Bankers Factoring.
Once we buy these invoices, we will now send you a cash advance of up to 80-93%. After we send you the cash advance, we will now collect the payment from your customer ourselves. Once we receive the payment from your customer, we will issue the rest of the reserves minus a small factoring fee.
Understand why my customers send payments to the factoring company.
This allows for a quick and simple injection of working capital for your business, bridging gaps in cash flow and allowing the headache of slow payment to become irrelevant. Your Alabama business is now free to utilize this cash anywhere it is needed, allowing you to experience the full advantages of active working capital.
Learn more about invoice factoring or accounts receivable financing.
Why Choose Invoice Factoring for Alabama Companies?
Since 1998, the owner-employees of Bankers Factoring have been offering our top-notch services to Alabama businesses like yours. Our decades of experience provide only the best invoice factoring to your business, and the benefits are immeasurable.
Learn the benefits of factoring with Bankers Factoring for Alabama companies:
Quick, simple cash flow solutions
Fast application and approval process
Same-day funding after approval
Low, easy-to-understand industry rates
Costs less than many business credit cards
Bad debt protection with non-recourse factoring
Accessible – banks send us their line of credit loan turndowns
Famous Bankers light touch with your clients
24/7 online reporting portal
Unique fees that drop as your business grows
Learn more about why Bankers Factoring for startup companies.
Birmingham, Alabama
Not only the home of endless Southern charm, Birmingham also holds home to strong innovation and entrepreneurship, and Bankers Factoring is honored to provide alternative funding solutions to the largest city in Alabama. Over 400,000 small businesses are found in Alabama, many of which are located in Birmingham, AL, and this business climate is supported by strong local groups, active universities, and bustling entrepreneurs.
Also, learn how to talk to your customers about factoring.
Why is Birmingham, Alabama a Great Place for Businesses?
As a city located in the heart of America's Southeast, Birmingham is highly connected. Major highways, railways, and the Birmingham-Shuttlesworth International Airport all allow for smooth and efficient distribution.
Also learn what your CPA needs to know about invoice factoring.
Business-friendly conditions
Low taxes, affordable cost of living, and strong pro-business laws, the city government provides many positive incentives for local businesses. This creates conditions highly conducive to success for both new and established businesses.
The local community in Birmingham takes pride in their lively city and supports local businesses in every way they can. Business owners and entrepreneurs also hold a strong sense of fellowship, allowing opportunities for working together to blossom.
The Birmingham economy is not dominated by one singular industry and is instead ruled by a large selection of many different industries. This creates resilience and stability for Birmingham and ensures that even with economic fluctuations, the economy stays strong.
Understand how factoring companies buy accounts receivable.
Home to several strong universities and research facilities, there is no shortage of talented workers in Birmingham. With such a strong group of potential employees to choose from, businesses are able to find the perfect employees for their needs.
Birmingham, Alabama, offers a great quality of life to its residents, providing all the benefits of both urban infrastructure and beautiful natural landscapes. With these attractive benefits, many business owners and employees are happy to call this city home.
Research institutions, medical centers, and universities are found in Birmingham, and they produce highly valuable advancements in innovation and technology. This supports the local industries and business economy, allowing them to continue with strong growth that never grows stale.
Understand bank loans vs invoice factoring.
Chattanooga, Tennessee
The Chattanooga area is not only found in Tennessee but also stretches in both Alabama and Georgia. With an affordable cost of living, a thriving business climate, and incredible landscapes, Chattanooga is a great place for your business to grow, and Bankers Factoring proudly offers our invoice factoring to the businesses found in Alabama's Chattanooga area.
Discover more about our invoice factoring in Tennessee.
What Industries Do Bankers Factoring Finance in Alabama?
Alabama is no longer only known for its roots in minerals, steel, iron, and peanuts. The economy continues to grow and thrive, and the industries it gives home to are stronger every day. With our A-rated invoice factoring, Bankers Factoring finances these industries in the state of Alabama:
Biotech & Bioscience
Staffing Agency
Wine & Spirits
Government Contractors
Trucking Company
Cable & Telecom
Aerospace & Aviation
Auto Production
Agriculture
Beverage Production
Mining & Chemicals
Distribution Logistics needing supply chain financing
Import and Export Trade Companies in Alabama
The import and export companies that call home to the Foreign-Trade Zones in Alabama, including those located in Mobile, Huntsville, and Birmingham, are never far from quick, simple, and efficient financing solutions with Bankers Factoring for businesses in Alabama. We want to be your award-winning finance company for Alabama importers.
These companies often bring in products from regions like Mexico, Central America, and South America, and we also offer invoice factoring services plus purchase order financing or PO funding to the companies in these trade zones.
Ready for the owner-employees of Bankers Factoring to grow your Alabama business with our award-winning receivable factor financing, including bad debt protection? Use our fast online factoring application or call 866-598-4295.