A Tennessee Factoring Company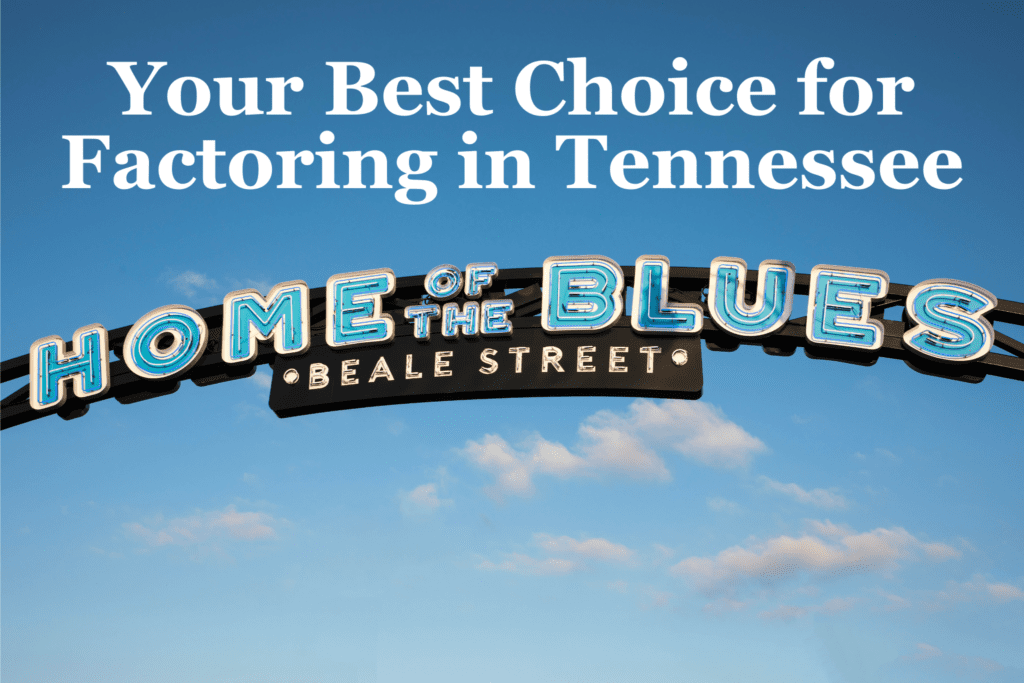 Bankers Factoring: Your Factoring Company in Tennessee
Famous for roots in American music history, robust sports teams, and beautiful landscapes, the state of Tennessee also boasts a fantastic business climate. Consistently ranked in the top five states considered best for businesses by organizations like CNBC, Business Facilities magazine, and the International Economic Development Council, there are few locations better to start and maintain your business and its growth than Tennessee.
Not many A/R factoring Tennessee companies can do what we do, and as a Tennessee factoring company, Bankers Factoring is proud to offer our award-winning non-recourse factoring and PO funding to Tennessee's entrepreneurs.
By purchasing your accounts receivable, we are able to take your unpaid invoices and transform them into reliable, safe, and immediate working capital. With Bankers Factoring, your accounts receivable factoring company in Tennessee, gaps in cash flow are closed with ease, and you can leave worries about slow payment behind.
Learn more about how invoice factoring works and accounts receivable financing from Bankers Factoring and our factoring services.
Understand how Bankers Factoring combines PO financing and invoice factoring to fund your small business.
Why is Tennessee Great for Businesses to Thrive?
In the state of Tennessee, there are key conditions found that create a great environment for businesses to grow and thrive. With these conditions in place, Tennessee entrepreneurs have all the tools they need to create strong and lasting foundations for their businesses.
Strong history of fiscal responsibility
Right-to-work state
Second lowest in the country for state and local taxes
No personal income tax for wages and salaries
Consistently rated Triple A by major rating services
Overhaul of tort and worker's compensation laws
Tax incentives and business grants for new entrepreneurs and small business
Learn what your CPA needs to know about invoice factoring.
Why Choose Invoice Factoring For Funding Tennessee Businesses?
In a world where the success of businesses is more important than ever, waiting for unpaid invoices on 30-90 day payment terms is not an ideal option: your Tennessee company needs working capital now and can't afford to wait. When traditional funding options like bank loans start to become few and far between, and your company is having a hard time being approved for such, there is an alternative option to consider: invoice factoring.
With Bankers Factoring, the process of approval is quick and simple, and instead of approval being based on your credit, it is based on your customer's credit. After you have been approved for our funding, we will send a same-day direct deposit via wire for your Tennessee business.
Leave behind the long waits and stressful gaps in cash flow with our simple approval process and remarkably quick funding. With many banks even sending us their loan turndowns, Bankers Factoring provides invoice factoring programs as an innovative, creative, and trustworthy funding solution for businesses of all sizes. Get fast funding with safe and steady cash flow now.
Read more about why choose Bankers Factoring for your non-recourse factoring services.
Bankers Factoring also offers something unique and high-value for Tennessee businesses: non-recourse factoring. This is a rare type of invoice factoring that provides bad debt protection for your company, meaning that if your customer becomes unable to pay their invoice, we will absorb this loss for you, taking on the credit risk and allowing you to maintain safety, reliability, and peace-of-mind for your business.
What Industries Do Bankers Factoring Finance in Tennessee?
With local offices found in Nashville, Memphis, and Chattanooga, Bankers Factoring offers our award-winning invoice factoring company programs in Tennessee for these industries:
Carpet Manufacturing
Staffing Payroll Funding
Wine & Spirits
Government
Cable & Telecom
Aerospace & Aviation
Food & Beverage
Trucking company and freight factoring
Technology
Rubber, Ceramics, & Glass
Appliances & Electrical
Chemicals
Automotive & Electric Vehicles
Advanced Manufacturing
Military
Healthcare & Life Sciences
Nashville, Tennessee
Nashville, Tennessee: this city nicknamed the Music City has its reputation as a birthplace of many of this nation's great music. Rock n' roll, blues, rockabilly, and country all owe much of their roots to this exceptional city. And with a diverse economy, low costs of living, low costs of business, and a great selection of strong colleges and universities, music is not the only great thing this city has to offer: Nashville also boasts fantastic conditions to start a business, and Bankers Factoring is eager to fund these businesses with our local Nashville offices.
We hope you choose us to be your Nashville Factoring company.
With its strong business climate, some of the industries that drive the city's economy include healthcare, corporate operations, manufacturing, supply chain management, and of course: music and entertainment. Many major corporations have established strong operations in Nashville, including the household-names of Amazon, Nissan, Bridgestone, Dollar General, iHeartMedia, Hospital Corporation of America, and more.
The Nashville Free Trade Zone allows goods to come in through regions like the Caribbean & Latin America, Mexico, and Germany, and Bankers Factoring offers the funding import and export trade companies in Nashville need. Invoice factoring from Bankers Factoring will create the working capital essential for Tennessee companies, allowing them to cover any and all operations costs needed to keep everything running smoothly and at the best capacity possible.
Understand why factoring companies verify invoices to protect you and the factor.
Memphis, Tennessee
The home of warm southern hospitality, music history, and history of civil rights, Memphis, Tennessee is also the home of a strong local economy, and Bankers Factoring is honored to offer our services with our local Memphis offices. With a vibrant culture and arts scene, and a rich history to explore, including Elvis Presley's former home, tourists from around the world are drawn to this city, keeping revenue flowing and supporting local businesses.
Local Fortune 500 companies like FedEx and Autozone maintain a strong presence in Memphis, allowing goods and services to flow efficiently through this city. And with international goods from places like Latin America, Central America, and the Caribbean coming in through the Memphis Free Trade Zone, Bankers Factoring provides the funding Memphis's import and export industry needs.
With strong healthcare like St. Jude Children's Hospital and Baptist Memorial Health Care, Memphis offers high quality, top-of-the-game health care that also contributes to the health of the local economy. A few of the industries that keep Memphis's economy strong include transportation, warehousing, and manufacturing.
Also read: why do my customers send payments to the factoring company?
Chattanooga, Tennessee
Affordable cost of living and no income tax: Chattanooga is not only the land of majestic mountains and sprawling natural landscapes but also a land of a great business climate. As a leading invoice factoring company in Chattanooga, Bankers Factoring is honored to offer our local offices to support the financial health and growth of Chattanooga businesses.
With regions stretching into Georgia and Alabama, Chattanooga offers a diverse economy, warm weather, fast broadband connection, and quality healthcare, causing many entrepreneurs to find a great home there. Significant industries in this area include automotive, advanced manufacturing, food and beverage production, and back office.
We hope you choose us to be your Chattanooga and Knoxville factoring company.
The Chattanooga Free Trade Zone allows goods to come in through Chattanooga from locations like Latin America and Europe, allowing Chattanooga to be an important player in the United State's imports and exports. Bankers Factoring is eager to offer alternative, creative funding solutions based on an invoice factoring line of credit to keep these industries strong.
Ready for the owner-employees of Bankers Factoring to grow your business with our award-winning receivable factor financing, including bad debt protection? Use our fast online factoring application or call 866-598-4295.