Need Essential Funding for Your Home-Based Businesses?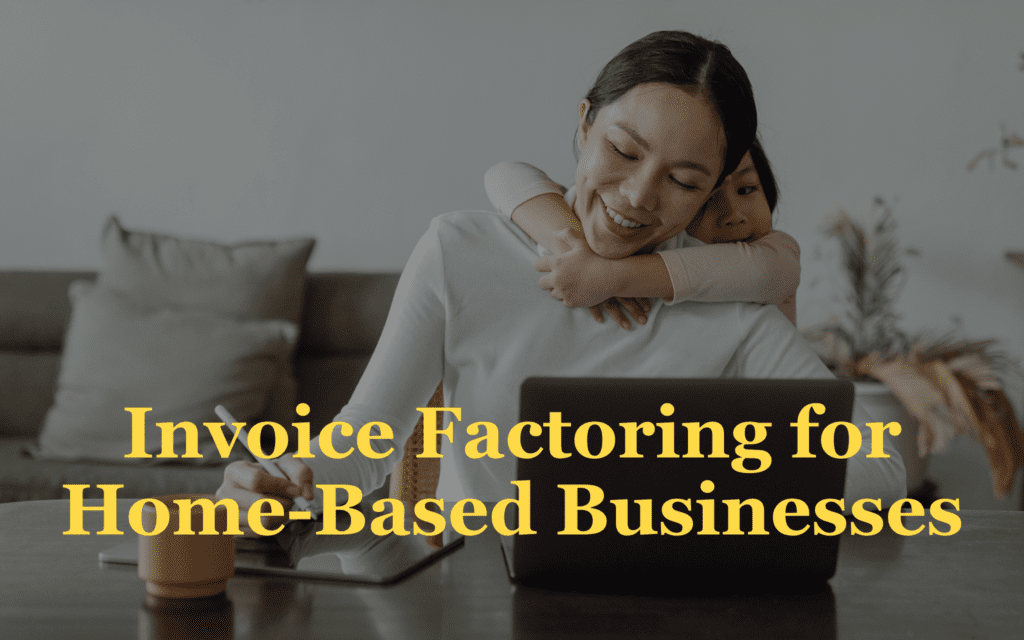 Home-Based Business Funding
Financing for Small Home-Based Businesses with Bankers Factoring.
With fifty percent of U.S. businesses being home-based businesses and about 15 million home-based businesses in the U.S. (Fundera), home-based businesses stand as a pillar of our economy. When such a large percentage of businesses in the United States are home-based, it is of utmost importance that these home-based businesses receive the funding they need to function at their highest potential. Many businesses are women and Hispanic-owned too.
Accounts Receivable Factoring for Home-Based Companies
As it becomes more and more difficult to obtain traditional funding like bank loans, especially for home-based businesses that are most often small businesses, waiting for payments on a 30-60 day basis can create struggles with maintaining consistent cash flow.
Invoice factoring provides the solution to this problem with accessible, quick, and simple funding, allowing the headache of slow payment to become a thing of the past and enabling home-based businesses to grow and thrive. Our invoice funding also includes bad debt protection.
Get your questions answered with our invoice factoring FAQ.
What Defines a Home-Based Business?
A common misconception is that a home-based business just means working from home. In fact, the actual definition of a home-based business is a business where the main office, or company headquarters, is found in the company owner's home. Even some of the biggest companies in the world, such as Apple, were started as home-based businesses.
Thanks to the impact of the COVID-19 pandemic, the number of home-based businesses has surged. When the world's work environment was turned upside down, many workers realized the value of working for themselves and began working towards becoming entrepreneurs.
Read small business invoice factoring and learn more.
Why an Invoice Factoring Line of Credit for Home-Based Businesses?
Statistically, home-based businesses are most often small, modestly-sized businesses. Many home-based entrepreneurs are relying on their own savings and personal credit. Small business grants and loans are difficult to secure. And when 45% of small businesses fail within five years, receiving proper financial support is essential to the success of home-based businesses.
Don't wait for large companies and governments to pay their invoices. Same-day funding is available for your outstanding invoices with our funding opportunity.
Also, read what to do if you can't make payroll.
Invoice factoring allows home-based businesses to secure a reliable source of funding for their operations, closing gaps in cash flow and creating fast and simple working capital. When home-based businesses receive funding from invoice factoring, there is no limit to the use, and any and all expenses are able to be covered with ease.
Understand more about what is an invoice factoring company.
How Does Invoice Factoring Work?
Invoice factoring is a simple, creative funding solution to turn your unpaid invoices into immediate working capital. Too often, your home-based business is met with invoices on 30-90 day payment terms. When you need your cash now rather than later, invoice factoring provides the solution.
Once your home-based business completes a transaction and thus creates an invoice, this invoice can now be sold to an invoice factoring company like Bankers Factoring. After our quick, simple approval process with minimal paperwork, we provide a cash advance of 80-93% with a remarkably short turnaround of same-day funding after approval.
Understand what makes a good invoice.
We, the factoring company, will now collect the payment from your customer ourselves, using our famous Bankers' light touch, taking the burden of collection out of your hands. Once the payment is collected, we will issue you the rest of the reserves minus a small, transparent factoring rate with zero hidden fees.
Read our article factoring rates explained.
The owner-employees of Bankers Factoring have been working since 1998, helping home-based businesses like yours gain access to accessible funding. With our over two decades of experience and counting, we are eager to assist you with the best funding services possible.
Learn more about why Bankers Factoring for small business owners.
How Does Invoice Factoring Provide Accessibility?
When many home-based businesses are primarily small businesses, they will often run into the typical roadblocks small businesses face when seeking funding from traditional sources. With issues like lack of collateral and non-existent or poor credit, home-based businesses may feel as if they are running out of options to gain the financing they need.
With invoice factoring, these issues are able to melt away. The collateral involved with invoice factoring is the value of the invoice itself, meaning that there is no need for additional collateral and no risk of collateral being seized. As well, approval for invoice factoring is not based on your credit, but the credit of your customer, allowing greater accessibility for businesses without strong credit.
Also, understand venture capital vs invoice factoring.
The invoice factoring process is simple and pain-free: where many traditional loan processes take piles of paperwork, extended timelines, and strict approval processes, invoice factoring requires little documentation and is one of the quickest funding services out there.
Understand more about factoring vs loans when turned down for a small business loan.
Bad Debt Protection for Home-Based Businesses
Bankers Factoring is proud to offer your home-based business something unique among factoring companies: non-recourse factoring. The risk of non-payment from customers can be damaging for any business, but when it comes to home-based businesses, where every transaction is essential to maintaining operations, non-payment can be detrimental.
Non-recourse factoring means that if a client is not able to pay their outstanding invoices, we will absorb this loss for you, protecting you from bad debt, taking on the credit risk, and ensuring that you are able to be paid no matter what. When every invoice is crucial to business, non-recourse factoring makes sure that you are able to see each one through, providing true security for your business.
Read more about non-recourse factoring.
Receive Funding for Your Home-Based Business.
When your home-based business is waiting on 30–60-day invoice payments to come through, leave behind the drudge of slow payment and gain access to simple, quick working capital by selling your invoices to Bankers Factoring today.
With our simple application process, don't wait months on end to be funded, your home-based small business could receive funding from us by the end of this week.
Ready for the owner-employees of Bankers Factoring to grow your home-based business with our award-winning receivable factor financing, including bad debt protection? Use our fast online factoring application or call 866-598-4295.