What Can Be Found in an Effective Invoice?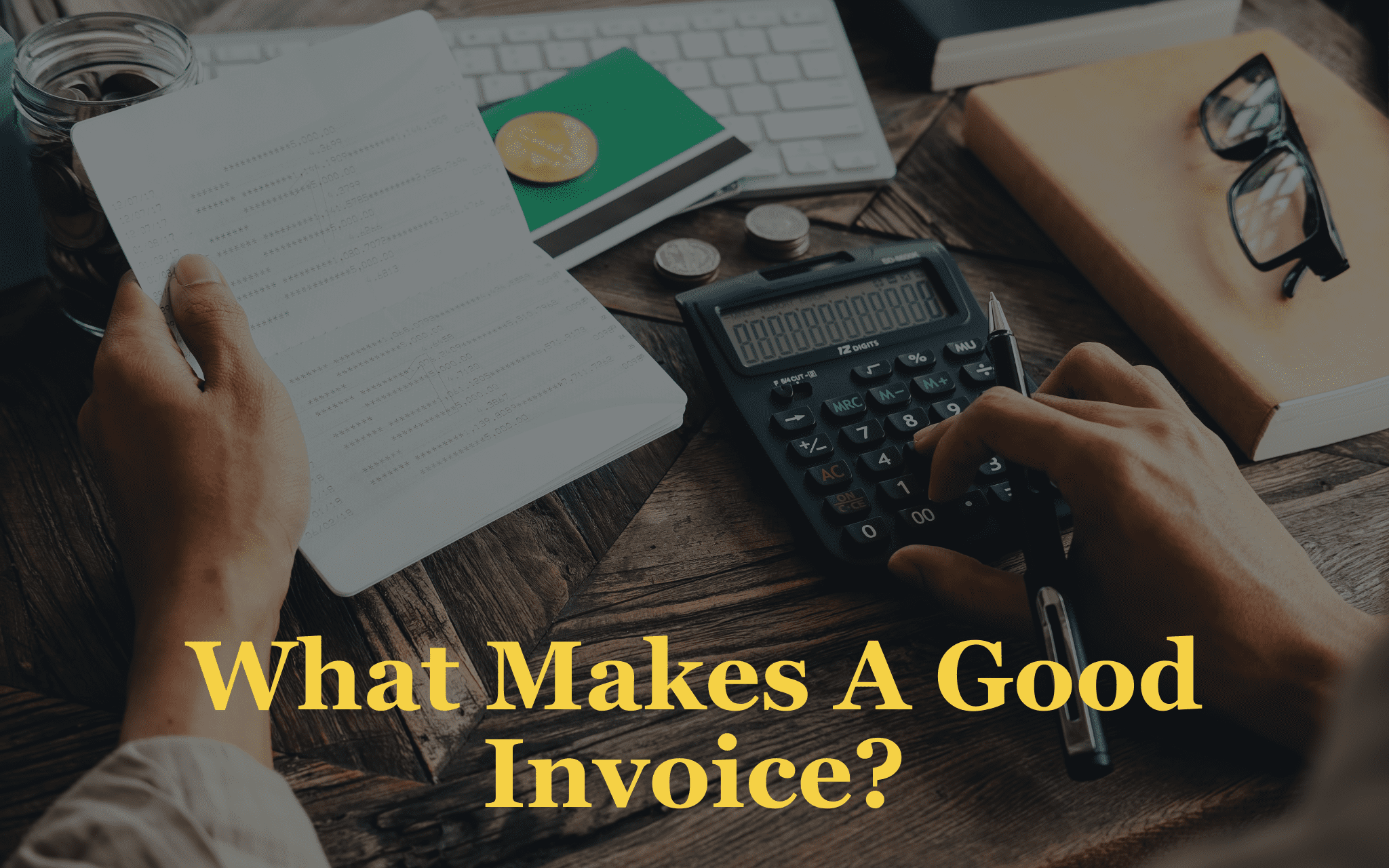 Best Practices for Invoicing Your Customers.
With 'invoice' right in the name, invoices are the very basis of invoice factoring. Without invoices, there would be no invoice factoring, and with how crucial invoices are to this process, it is equally as important to understand what makes up a well-written invoice.
During the invoice factoring approval process, the quality of the invoices at hand is assessed, and maintaining a basic standard of quality is essential to being approved. Understanding what makes up a good invoice is simple, and there are a few key elements to include on your invoice.
Learn about how factoring companies buy accounts receivable.
What Key Elements Does a Good Invoice Contain?
Description of products or services
Provide a detailed description of the products or services rendered that your business provides for your customers. Include the date on which your products or services were delivered, as well as the number of units the customer requested, the unit price, and any taxes due. This is all summed up in the total amount due for the client to pay.
In the case that the customer ordered more than one good or service, include separate, itemized lines with the details of the item. Make sure to keep it clear and transparent to ensure that you and your customer are on the same page about the payment. This will help avoid any potential disagreements or disputes.
Customer's Purchase Order and Specifications
How do you end up with a perfect product or service? It starts with a perfect purchase order. Your invoice should reference your client's contract number, purchase order, vendor agreement, and any specifications that you must meet. It is all about you meeting your customer's quality, quantity, and timeliness requirements.
If you are selling them a physical product, it might reference a sample sign-off, an inspection, or a lab report.
Provide the invoice date, the terms of payment to your customer (net 30), and the dates for the payment to be due. It can be helpful to list multiple payment options for your customers, so they are able to choose the payment method that suits them best. Make sure to clearly list the due date for the payment so your customer can fully understand the expected timeline.
An invoice is a legal document that should also reflect what happens if your customer doesn't pay. Many people miss the legal language on the back of any invoice that includes collection and attorney fees if your customer doesn't pay.
Business legal name and relevant information
A good invoice will include important information relevant to you like your business name, your place of address, any relevant contact information details, and a logo if you have one. It is also important to include the customer's name, phone number, email, physical address, mailing address, PO number, unique invoice number, and the date of the invoice.
This information will ensure that your customer knows how to best contact you and that you know how to best contact them, as well as ensure that the invoice is well-organized and able to be tracked.
What departments get a copy of the invoice?
Accounts payable, the department manager, the contracting officer, quality control, and the job manager may all need to be copied on your invoice to the company.
Learn more with our invoice factoring FAQ.
Why Sell Your Invoices to Benefit Your Business?
Many invoices you may be dealing with are on 30 to 90-day payment terms. But you don't want to wait that long: your business needs your cash now rather than later. With invoice factoring, you can take back control of your finances, gaining immediate working capital safely and easily.
Understand what is an invoice factoring company.
When you sell your invoices to an invoice factoring company, like Bankers Factoring, we will provide you an immediate cash advance of up to 80-93%. The factoring company will now collect the payment from your customer ourselves, and once the payment is collected, we will issue you the rest of the reserves minus a small factoring fee.
Once this process is completed, you are able to enjoy the full benefits of having access to working capital, allowing the headache of slow payment to be a thing of the past. You can put your worries of cash flow to the side, and freely work on allowing your company to grow and thrive.
Learn more about how business factoring works.
Why Does My Customer Send Payments to the Factoring Company?
You may now be wondering why your customer sends payments to the factoring company during the process of invoice factoring and what this change entails. In fact, this change in payment address is what enables the entire process to occur and allows Bankers Factoring to reduce risk and resolve invoices smoothly and efficiently.
Read our article factoring rates explained.
The change in payment address is the only change that your customer will find during invoice factoring, and there will be no change in the goods or services that they are provided.
Understand more about why my customers send payments to the factoring company.
How Does Bankers Factoring Deal with My Customers?
You may also worry about how your factoring company is going to deal with collecting payment from your customers. Rest assured that with Bankers Factoring, we will always use our famous Bankers' light touch with your customers, treating them with professionalism, courtesy, and kindness.
Learn how to talk to your customers about factoring, and how invoice factoring helps both you and your customer.
As business owners ourselves, we understand intimately the importance of maintaining strong customer relations, and we will treat your clients as if they were our own.
Understand the difference between collection agencies and factoring companies.
How Are Invoices Verified?
During the approval process for invoice factoring, your invoices will be reviewed and verified by the factoring company in order to move forward with the factoring process itself. When we verify your invoice, we will confirm that the goods or services have been provided, verify your customer's creditworthiness, review the invoice for any disputes to ensure the information is correct, and obtain approval from your customer.
The method that A/R factoring companies use to access your invoice information includes online vendor portals, email, or phone call/fax. From factor to factor the timeline for this process can vary widely, and when working with Bankers Factoring, we pride ourselves on our quick, simple, and efficient processes, and are able to offer the remarkable turnaround of same-day funding after approval.
Learn more about why factoring companies verify invoices.
Why Work with Bankers Factoring?
Bad debt protection with non-recourse factoring
Bridging gaps in cash flow and supporting financial health
Clearly defined terms and zero hidden fees
Low rates that are similar to swiping a business credit card
Fees that drop as your business grows
Access to our decades of knowledge and expertise
Famous Bankers' light touch with your customers
24/7 online reporting portal
Greater accessibility than traditional loans
SBA loan turndown specialists
We hope you enjoyed learning about how to write an invoice, even a simple invoice, which protects your rights and meets your client's needs, so your invoice payment comes faster. Please use the above best invoicing practices to create your own free invoice template.
Ready for the owner-employees of Bankers Factoring to grow your business with our award-winning receivable factor financing, including bad debt protection? Use our fast online factoring application or call 866-598-4295.