Can You Make Money and Incur Factoring Company Fees and Charges?
How Much Does Factoring Cost?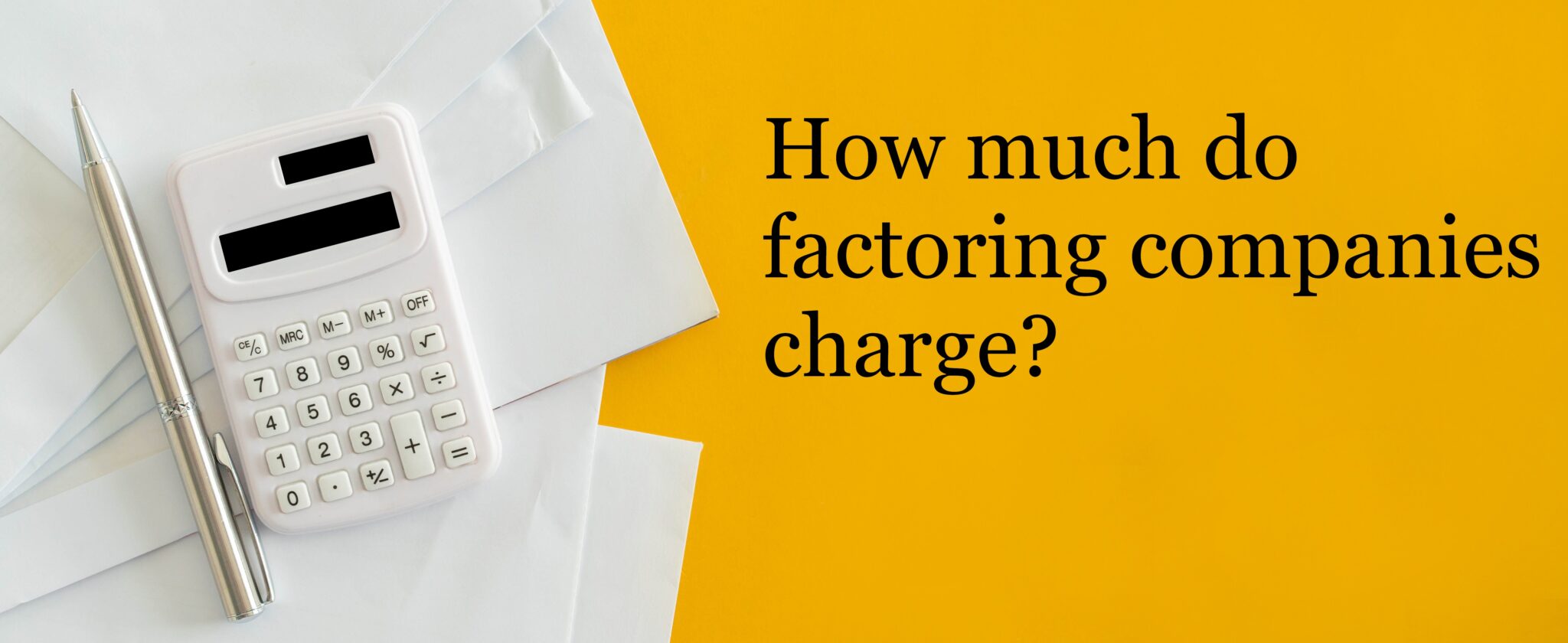 The Best Factoring Companies have easy-to-understand Factoring Fees and Advance Rates.
What does Bankers Factoring charge in Factors Fees?
Bankers Factoring charges from .9-1.6% per 30 days for their factoring fees with factoring advance rates of 80-93% of the net invoice amount. Fee structure and pricing include bad debt protection, with some of the lowest factoring company costs. Tiered rates tied to your growth are also an option in invoice discounting.
In 2022, the US-based factoring industry will surpass $3.5 trillion in market value. With so many factoring company providers, the different invoice factoring rates and pricing options in factoring company's contracts are numerous.
Knowing what your factoring agreement includes about cost, terms, conditions, and fees is critical. Factoring contract terms and fees significantly impacts on your bottom line and financial health. Suppose you are looking to secure a low cost business line of credit. In that case, it is important to understand your charges, including extra fees and expenses. Your best choice for a factoring company is one that ensures your cash flow plan is bad debt protected.
You can also read what invoice factoring costs. to learn more about understanding factoring costs, factoring agreements, and factoring contracts,
Bankers Factoring Non-Recourse Factoring is the best program for your cash. We provide bad debt protection meaning your funds have default protection, and we take on the credit risk.
Complete an online factoring application if your business needs 80-93% cash advances, factoring rates from .9-1.5%, and regular cash flow financing. We offer tiered factoring rates to reward your future growth.
How much do account receivable factoring companies charge?
Factoring fees vary by industry, and it is important to understand that factoring fees may also vary with the size of your invoice. Typically, factors charge between 1% and 5% of the invoice amount. Your factoring fee can be a flat fee, a flat rate, split, daily, or vary based on your customers' credit terms. Factorings on small invoices can also be per factoring transaction.
Factors that influence your factoring rate:
Your customer's creditworthiness
Size of your business and balance sheet
The monthly volume of invoices
Your invoice's face value
Your industry
Your client makeup – small business versus large business
Your previous credit history
See related article: How much does invoice factoring cost?
What are factoring fees?
Factoring fees are the percentage of your invoice amount that Bankers Factoring charges to advance funds on your invoices. Charging fees are how factoring companies receive compensation for taking on your receivable risk. Factoring fees, also called discount or rebate, is the amount of money it costs your business to receive factoring financing.
Bankers Factoring competitive factoring fees start at .9 to 1.6%, which includes our bad debt protection. Our rates have coverage if your customers become bankrupt or cannot pay their bills. Protected cash flow is the difference you need, which is possible with our non-recourse factoring services.
See related: Factoring Fees and Rates Explained.
What is the cost of receivable factoring?
Factoring costs depend on several factors, including your customer and company's credit rating, the type of business you run, and the overall financial health of your business. On top of paying your factoring rate (discount fee), other costs are associated with factoring.
Total Costs and Fees of Invoice Factoring:
Factoring rate
Administrative fees
Account setup fees
Wire transactions fees
Transaction fees
Credit management costs
The cost of factoring is important as it impacts your advance rate. Your company wants to receive as much funding as possible on its cash advances. The more invoices you factor from your customers, the less you can expect to pay in discount rates.
Related article: Understanding Factoring Rates and Fees
How do factoring costs benefit my company?
Aside from receiving fast funds and access to working capital, Bankers Factoring provides more than working capital.
Bad Debt Protection
We provide credit protection by covering bad debts for the invoices you sell us. Bankruptcy, insolvency, and lengthy slow pay do not impact your financials with Bankers Factoring non-recourse services.
Back Office Support
We manage your A/R and credit departments, freeing up your accounting and operations staff to focus on more critical efforts. Business owners no longer need to worry about collections and cash flow – our factoring program provides access to a 24/7 online reporting portal.
We can make you a stronger vendor to you customers or the account debtors.
Flexible Finance Source
Your business is not restricted to loan agreements and deal that increase your cost of capital. Factoring agreements allow you to increase your funding amount as you grow.
Ability to Improve Credit
Factoring helps you pay invoices on time, grow your balance sheet, and acquire new customers, which can improve your credit quality. Startups and distressed business owners can use factoring to work with traditional lenders down the road.
See related: Why do companies use A/R factoring?
The difference between recourse and non-recourse factoring fees
There are two types of factoring: recourse and non-recourse. Both factoring agreements can establish different cost structures.
The main difference is that the recourse factoring arrangement leaves you responsible for your customer's bad debt. With the best non-recourse factoring company, we cover bad debt expenses for lower fees.
Recourse factoring fees are higher since the factoring company advances funds to you without any protection. If your client does not make payment, the factoring company takes recourse by getting their money back.
See related: Understanding Non-Recourse Invoice Factoring.
Is there a way to receive lower factoring rates?
The factoring rate quote only estimates how much you can expect to pay. The actual speed you receive depends immensely on the creditworthiness of your customers. At Bankers Factoring, the more invoices you factor in, the lower your rate. We conduct regular reviews of your account to ensure we provide your business with the most efficient cash flow solutions.
Ways to lower the total cost of factoring:
Increase your monthly receivables by acquiring new customers or negotiating new sales
Improve your credit score
Lower prices of sales to improve your profit margins
Factor invoices from multiple customers with strong creditworthiness
Work with The Best Non-Recourse Factoring Company
If you fear economic uncertainty, Bankers Factoring reliability and predictability will help weather the storm with a factoring arrangement and our unlimited working capital solution.
How do factoring fees impact your financials?
When you sell your invoices to Bankers Factoring, the startup fees, factoring costs, and administrative expenses are tax deductible. Factoring significantly impacts your cash flow statement as you convert A/R into cash. Your balance sheet assets will reduce slightly once you sell open invoices. Your accounts receivables go down and cash goes up.
No impact on your debt-to-equity or risk ratio
Accelerates cash and improves cash flow statement
Improves available working capital
Provides the money to reduce liabilities and improve credit
Related articles: Journal Entries for Factoring Receivables to see the proper factoring accounting journal entries in Quickbooks.
Bankers Factoring wants to be your friendly and award-winning accounts receivable financing company. With low factoring fee and rates and a dedicated account executive, we hope you choose Bankers for your factoring solution and cash needs.