Local Factoring in the State of Virginia and the Washington DC Area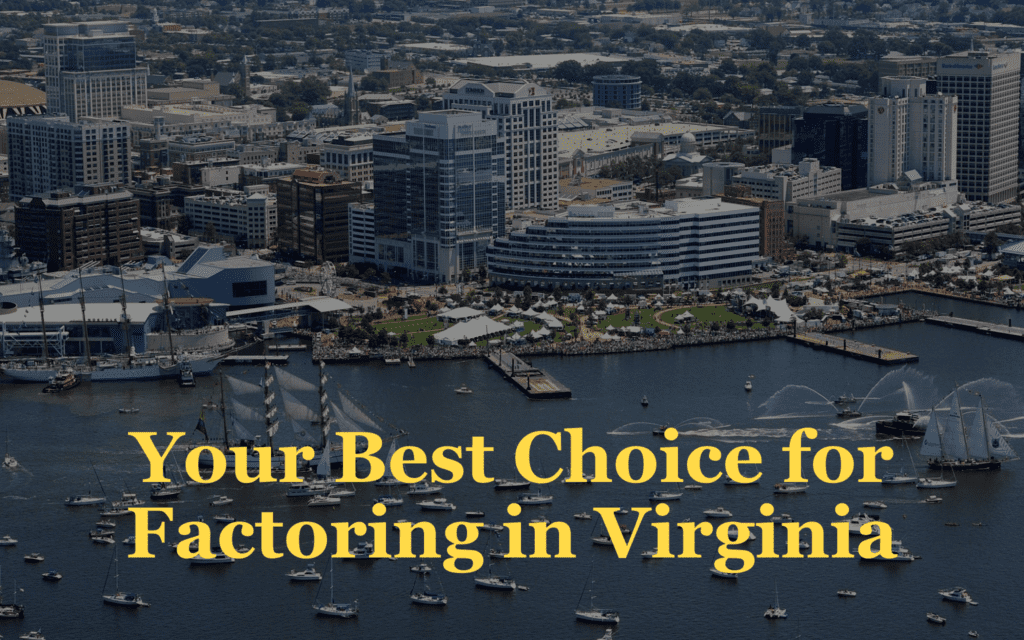 Small Business and Government Factoring Company Specialist
With its solid educational institutions, talented workforce, and dedication to business, Virginia is not only for lovers but for businesses too. Ranked as America's #2 Top State for Business in 2023 by CNBC, there are few places better for your business to thrive.
Whether your Virginia business is a startup, a small business with little credit, or a strongly established business dealing with credit issues, finding yourself turned down for traditional bank loans for the cash flow you need is difficult. And thus, finding funding may seem impossible.
However, when you've found yourself having trouble securing funding, you need not look further for the solution. Allow Bankers Factoring to fund your Virginia business with our award-winning invoice factoring. By selling your unpaid invoices to us, you will receive an immediate advance of critical working capital. And that is just one of the many benefits of invoice factoring.
For more advice on what to do when you've been denied a business or bank loan, read our article on how to obtain financing after business loan denial.
How Does Virginia Invoice Factoring Work?
Tired of waiting 30, 60, or even 90 days to receive payment from your invoices?  These gaps in cash flow can harm financial health, locking up your Virginia business' working capital. It creates headaches and stress about meeting essential financial obligations.  Receive funds within 24 hours of invoicing your customers. Factoring invoices is based on the strength of your customer's credit, not your credit score.
When your Virginia business completes B2B or B2G sales, invoice factoring alleviates the aches and pains of gaps in cash flow by smoothly bridging these gaps. After your Virginia business has successfully completed a transaction, you can now sell these invoices to an invoice factoring company like Bankers Factoring. We will provide an immediate 80-93% cash advance against your invoices. We then collect the payment from your customer ourselves, taking the burden off your hands.
Learn how Bankers Factoring protects your Virginia business from non-payment with our bad debt protection from non-recourse factoring for customer payments.
Once we have collected the payment from your customer with our Banker's Factoring famous light touch, we will issue you the rest of the reserves minus our small, affordable factoring rate. This process happens after our simple, straightforward approval process. After approval, your Virginia business can receive the remarkably quick turnaround of same-day funding.
Want to learn more about invoice factoring? See our invoice factoring FAQ.
Why Virginia for Your Business to Grow with a VA Receivable Factoring Company?
With one of the most educated populations in the country and rated the most educated state in the American South, Virginia holds a robust labor pool prepared to meet all business needs. Businesses calling Virginia home will find no shortage of talented workers.
Enjoying a prime location on the U.S. East Coast, near the capital of Washington, D.C., Virginia is home to an extensive transportation system of highways, railroads, airports, and seaports. This strong, comprehensive system creates ideal transportation conditions for any Virginia industry.
Beautiful landscapes are found, from scenic beaches to the Blue Ridge Mountains, bustling urban centers, and charming small towns, with arts and businesses thriving alike. Virginia boasts a high quality of life. And where there is high quality of life, communities thrive, and successful businesses come hand in hand.
Are you worried about making payroll? Read our article on what to do if you can't make payroll.
Why Choose Invoice Factoring for Funding Virginia Businesses?
With Virginia's thriving business scene, your business needs to be able to keep up with the competition, and maintaining healthy, uninterrupted cash flow is crucial in doing so. When Virginia businesses find themselves running into roadblocks in securing funding, invoice factoring steps in and fills these gaps.
As opposed to traditional bank loans, the approval process for invoice factoring is quick, short, and simple, requiring much less documentation. Credit checks are done on your business' customers instead of your business itself, providing greater accessibility to those with unbankable credit. Many banks will send us their loan turndowns to provide funding as well.
Learn more about traditional loans vs invoice factoring.
Since 1998, the owner-employees of Bankers Factoring have been working to secure safe, reliable, and immediate funding for Virginia businesses like yours. With invoice factoring, you can exchange gaps in cash flow for financial health and prosperity.
From Hawaii to Florida to New York, we fund businesses needing working cash flow in all 50 states, and the benefits continue from companies in Virginia to the rest of the country.
Wondering how to tell your accountant about invoice factoring? Read our article on what your CPA needs to know about invoice factoring.
Richmond, VA Factoring Company
As the state capital of Virginia, Richmond holds a rich, strong pro-business environment. Giving home to seven Fortune 500 companies and 300 international companies from 30 countries, Richmond's economy is boosted by its strong industries of finance, medicine, technology, manufacturing, and transportation.
The pandemic was kind to no one, and the businesses of Richmond, Virginia, were unexpected, losing over 70,000 jobs in March 2020. However, the strong, resilient economy of Richmond was able to snap back better than ever before, recovering 100% of these lost jobs by 2022, proving the capability and strength of Richmond's economy.
Also, understand what makes a good invoice.
As an employee-owned business, we understand the ins and outs of running a business ourselves, and we want to see you succeed. We care about your business as much as you do. Bankers Factoring is honored to meet the financial needs of your Virginia business with our A-rated invoice factoring services.
We hope you choose us to be your Richmond, Virginia Factoring company. Bankers Factoring also has special government factoring programs.
We also offer PO funding to the Foreign Trade Zones found in Virginia, including the trade zones found in Richmond and Norfolk. Learn how Bankers Factoring combines PO financing and invoice factoring, bringing the benefits of both financial tools to your Virginia business.
Read more about invoice factoring in Richmond, VA, and the state of Virginia. We also have local West Virginia factoring offices.
What Benefits Does Bankers Factoring Provide to Virginia Businesses?
Quick, simple cash flow solutions
Offer payment terms to grow your VA business.
Fast application and approval process
Same-day funding after approval
VA Free Trade Zone import financing
Low costs and no hidden factoring fees
Steady cash flow versus slow-paying customers
Cost like swiping a business credit card
Bad debt protection with non-recourse factoring
Bank financing turndowns
High accessibility – banks send us their loan turndowns
Famous Bankers' light touch with your clients
24/7 online reporting portal
Sliding scale fees that drop as your business grows
Learn more about why Bankers Factoring is the best choice for government factoring.
With Bankers Factoring's simple application process, there is no need to wait months for your Virginia business to be funded. Contact Bankers Factoring today, and you could receive funding from us by the end of this week with invoice factoring programs.
Ready for the owner-employees of Bankers Factoring to grow your Virginia business with our award-winning receivable factor financing, including bad debt protection? Use our fast online factoring application or call 866-598-4295.