Invoice Factoring for the Maintenance Industry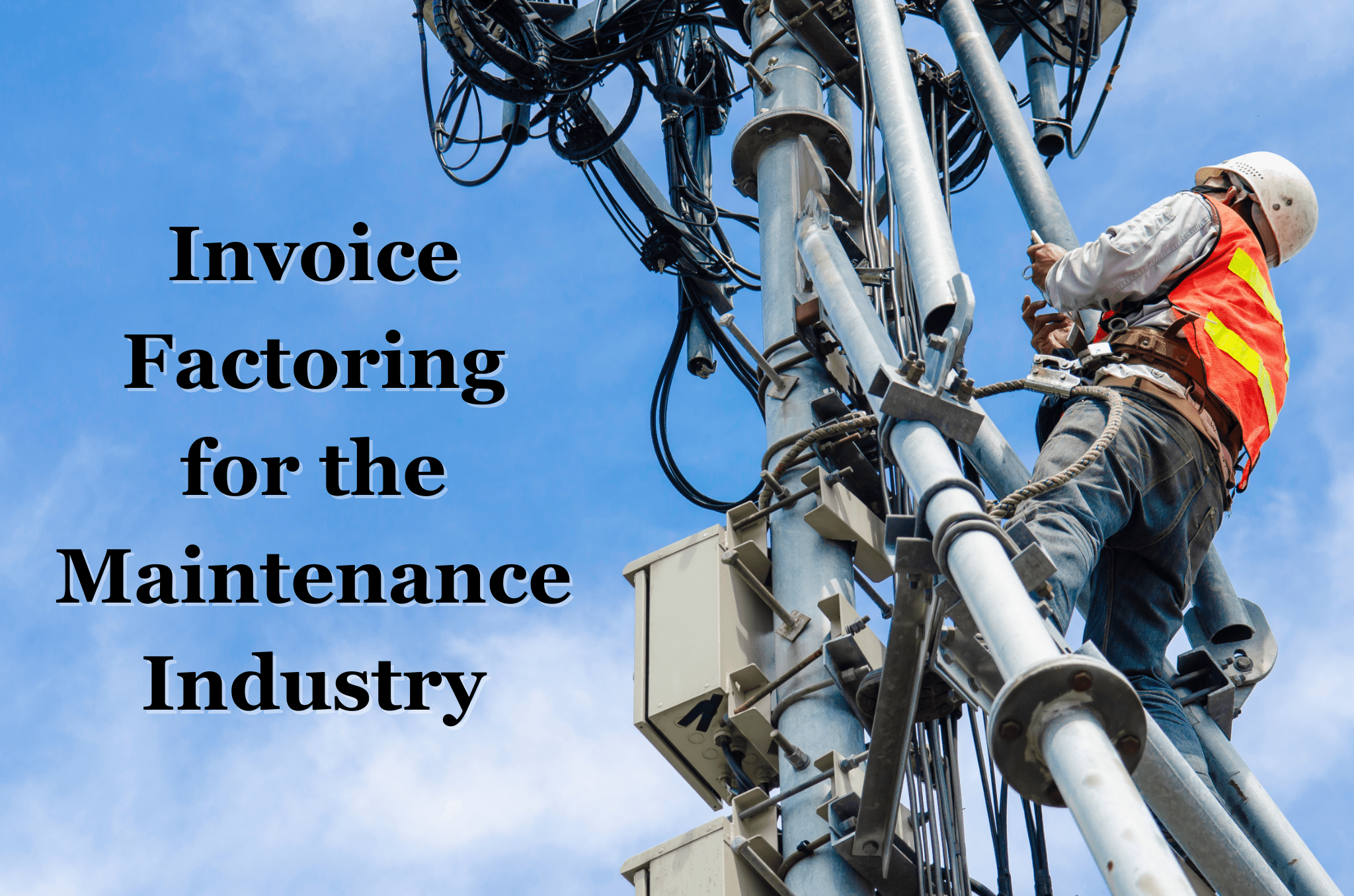 A Dedicated Maintenance Invoice Factoring Company
The importance of maintenance companies is undeniable, and the maintenance industry plays a vital role in ensuring all industry operations around the world operate smoothly and safely. With over 1.4 million maintenance employees in the United States as of May 2020, according to the U.S. Bureau of Labor Statistics, it is of utmost importance for the maintenance companies that employ these workers to be able to ensure positive working capital.
Same-Day Maintenance Factoring Company
Electrical maintenance, facility maintenance, general maintenance, property maintenance, equipment maintenance, IT maintenance: no matter what type of maintenance your company provides, being stuck waiting for your customers to pay on 30-90 day payment terms is an issue any maintenance company will recognize. With tied-up cash and unpredictability in cash flow, it can be difficult to meet costs like payroll, equipment, fuel, insurance, and more.
With same-day funding from invoice factoring companies, issues with meeting costs thanks to slow payment are able to transform from stress into financial security. Accessible, simple, and reliable funding becomes possible with invoice factoring with Bankers Factoring.
Learn how to talk to your customers about invoice factoring.
What are Invoice Factoring Services for Maintenance Companies?
Once you have completed a maintenance job and have generated an invoice, these invoices are often on 30-90 day payment terms, locking up your working capital and hurting your cash flow. An A/R factoring company like Bankers Factoring will turn this around by buying your outstanding invoices from you and providing an 80-93% cash advance.
Read more about how factoring companies buy accounts receivable.
How Invoice Factoring Works.
Once the unpaid invoices have been sold to the factoring company and the cash advance has been provided, the factoring company will now take over collecting the payment from your customer themselves. Once the customer pays the invoice to the factoring company, the rest of the reserves will be issued to you, minus a small factoring fee. This simple process creates working capital now rather than later and provides all the benefits of access to active cash flow.
Learn more about how factoring works.
Invoice factoring is nothing new: in fact, the use of similar practices has been recorded as early as ancient Mesopotamia. As an industry that was valued at 2.8 billion in 2019, and is projected to expand at a compound annual growth rate of 13% from 2020 to 2028, according to Transparency Market Research, invoice factoring is a fantastic financial tool that is only growing in popularity because of what a factoring company offers like Bankers.
Read: can you have two factoring companies?
Why is Invoice Factoring Great For Maintenance Companies?
With invoice factoring, the stress of how these commonly-faced costs by maintenance companies is able to be left behind. Instead of worrying about how these costs will be met, maintenance companies can cover them with ease and work on allowing their company and its operations to continue to grow and thrive.
Payroll/labor
Equipment and tools
Materials and supplies
Vehicles and fuel
Administration and overhead
Employee training
Safety compliance
Outsourcing
Insurance
Taxes and permits
Learn about why factoring companies verify invoices.
The Benefits of Invoice Factoring.
As more and more companies realize the benefits that invoice factoring provides, it is simple to see why.
One hallmark of invoice factoring, and especially so with Bankers Factoring, is the amount of time in which funds are able to be received. With Bankers Factoring, our approval process is fast and easy, and once the approval process is completed, there is a remarkably short turnaround time of same-day to 24 hour funding. With this quick injection of cash flow into your business, you are able to instantly be able to cover the costs you need wherever you need and leave worries of slow pay behind.
Invoice factoring is not a loan, meaning that there is no debt involved like traditional funding from bank loans. There is also something truly unique about Bankers Factoring: not only will you not acquire debt with invoice factoring, you will also receive bad debt protection from non-recourse factoring. Non-recourse factoring means that we will take on the credit risk, and if for any reason your customer fails to make payment, we will absorb this loss, not you, providing safety and peace of mind for your company.
Simple qualifications for maintenance factoring
Many traditional funding solutions like bank loans have complicated approval and qualification processes that require many documents to be presented and can take up to weeks and months to get approved. Invoice factoring is the opposite of this: the approval process is simple, quick, and straightforward. Instead of approval being based on your credit score like a bank loan, approval is based on your customer's credit score and credit histories instead. Many banks will even send us their loan turndowns so that they can access funding with invoice factoring.
Learn more about factoring vs bank loans.
Low factoring costs that are easy to understand
Working with Bankers Factoring, we are proud to offer low industry fees that are so simple they can be calculated on the back of a napkin. Our goal is to ensure the financial health of your business. There will be no hidden fees, and everything will be clearly laid out for you to understand, with no surprises to be found. We also offer a unique sliding scale that supports the growth of your business, providing fees that drop as your business grows.
To understand the true cost of invoice factoring, please read: factoring rates explained.
Understand venture capital vs invoice factoring.
Why Work With Bankers Factoring?
Since 1998, the owner-employees of Bankers Factoring have provided working capital and creative funding solutions to maintenance companies like yours. As business owners and entrepreneurs, we intimately understand the process of running a business and care about your company as much as you do.
Rated an A-rated factor financing company from Factoring Club, you can explore creative financing solutions with us, and enjoy our fast funding and great customer service.
Learn more about why choose Bankers Factoring, the best invoice factoring company.
What Financing Options Bankers Factoring Has for Maintenance Companies.
Bridging gaps in cash flow
Same-day funding after approval
Simple and accessible application and approval process
Bad debt protection from non-payment
24/7 online reporting portal
Credit checks on your customer instead of you
Easy-to-understand terms and conditions
Low costs cheaper than business credit card interest rate
Unique sliding scale fees that drop as you grow
Bankers' famous light touch with your customers
Access to our decades of knowledge and expertise
Leave behind the stress of slow-paying clients
Ready for the owner-employees of Bankers Factoring to fund your maintenance company with safe and fast invoice factoring?
Ready for the owner-employees of Bankers Factoring to grow your business with our award-winning receivable factor financing, including bad debt protection? Use our fast online factoring application or call 866-598-4295.