What Makes a Purchase Order a Legal Contract?
Is a PO Agreement Legally Binding?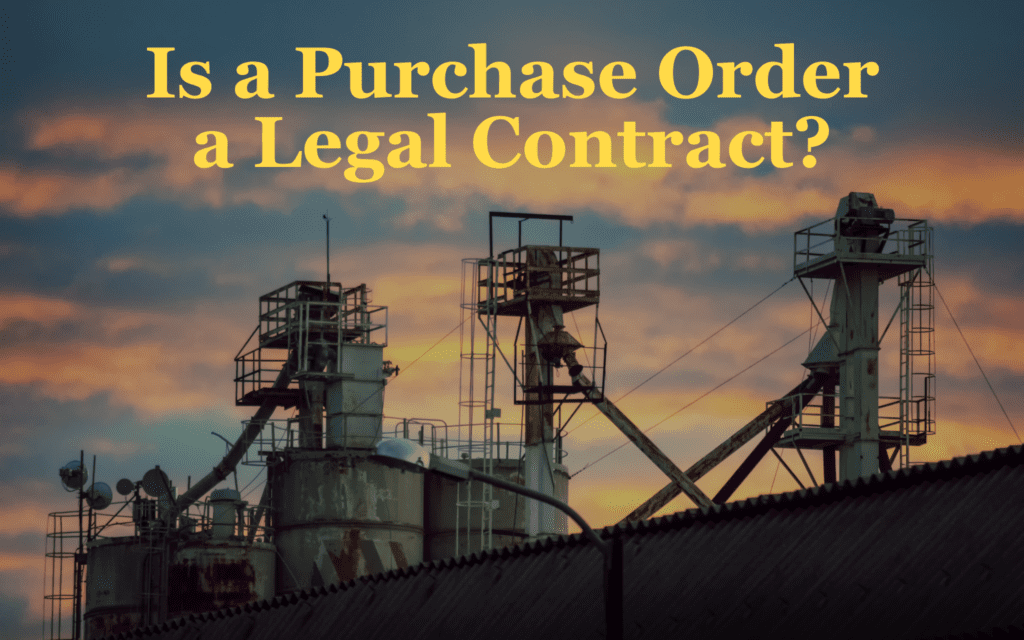 Understanding a Purchase Order versus a Contract when ordering Goods or Services.
As documents create legally binding relationships between customers and sellers in a business transaction, both purchase orders and contracts are similar agreements, yet understanding the differences between the two is important.
In this article, you will find the definitions and differences between purchase orders and contracts, learn about purchase order funding, and how purchase order financing goes hand in hand with invoice factoring.
How is a Contract Defined?
A contract is a broad term for a legally binding document that shows the working agreements between two or more parties, most often the service provider and the receiver of the service. Contracts include an offer that is made by one party and accepted by the other party, where something of value is exchanged for something else of value.
Contracts define what is expected of both parties and legally protects each party if any part of the contract is violated.
Expand your understanding with our article whether an invoice is a legal contract.
How is a Purchase Order Defined?
Much like how all squares are rectangles, but not every rectangle is a square, all accepted purchase order agreements are contracts, yet not every contract is a purchase order agreement.
A purchase order, once accepted by the seller, is a type of contract – and this is the relationship between the two. How do you end up with perfect goods or services? It starts with a perfect purchase order. A well-written purchase agreement mapping out the purchasing process reduces risk exposure to all parties involved.
Purchase Orders and Vendor Agreements Map Out the Complex Set of Terms
A purchase order, or PO, is a document sent from a buyer to a seller requesting to purchase a product, including the order details like quantity, agreed prices, types of products, payment terms and conditions, return policy, and details of delivery. Similar to adding items to a cart when making online purchases, purchase orders allow sellers to understand exactly what the buyer wants to purchase from their business.
A common misconception is that all purchase orders are for a period of time. However, blanket purchase orders exist, but they must be monitored closely as purchase departments will overorder and miss the steps of the renewal options. Office supplies are goods that use a blanket purchase order agreement, but be careful, as fewer people at offices can mean over-ordering and over-supplies.
Once the seller accepts this purchase proposal, the purchase order becomes a legally binding contract. The terms of the purchase order will be followed, and the seller becomes obligated to deliver the product, and the buyer becomes obligated to submit the payment.
Read our previous article the pros and cons of invoice factoring, as it ties into the purchase requisition process.
Purchase order contracts serve to create clarity for both the buyer and seller, reducing liability by explicitly laying out the guidelines under legal terms for the transaction at hand.
We also have a robust government contract financing program.
What is Purchase Order Financing?
When your business is familiar with the satisfaction and excitement of receiving a large purchase order, yet also familiar with the stress and headache of wondering if you're going to be able to have the funds to meet it, PO funding could be right for you.
Purchase order financing is when businesses receive large purchase orders that they cannot cover the cost of, and companies that provide PO funding like Bankers Factoring provide financial support by covering the manufacturing and shipping costs, allowing the business to leave financial struggles behind and complete the order.
Read purchase order funding & trade financing from Bankers Factoring.
Example of PO Financing
Say your company sells guitars. Guitar Center sends you a large purchase order for your guitars, yet you don't have enough cash flow to cover the materials for the order and buy your product from your manufacturer. An order this large would greatly support your business, yet you're not sure how you're going to be able to fulfill it.
A PO funding company like Bankers Factoring will address and remedy this issue with the simple solution of buying the guitars for you or using our credit to arrange terms with your supplier. 
Read our full guide to purchase order financing, and find your questions answered even further.
How Purchase Order Financing Relates to Invoice Factoring
Once your company has the guitars you need to fulfill your order to Guitar Center, and your product has been successfully delivered, an invoice on 30-90 day payment terms has subsequently been created. This invoice can now be factored with invoice factoring, a simple process that involves selling your invoices to a factoring company like Bankers Factoring.
Also, understand how Bankers Factoring provides protection from non-payment and the resulting bad debt with the security of non-recourse invoice factoring.
We will convert this newly created invoice into immediate, safe, and reliable working capital, all within the remarkably quick turn-around of same-day funding after our simple approval process, allowing you to leave problems of slow payment in the past.
Understand more with our comprehensive guide to factoring invoices.
The processes of purchase order financing and invoice factoring work together harmoniously to provide your business with financial support every step of the way, and Bankers Factoring is proud to have the privilege to offer both services to your growing business.
Learn more about our award-winning A/R factoring program with our article why companies use A/R factoring.
What Businesses Benefit from PO Financing?
There are a few specific businesses that will benefit the most from PO financing.
Wholesalers
Distributors
Importers
Outsourced manufacturers
Resellers
Learn more about why Bankers invoice factoring to bridge gaps in cash flow.
Does PO Funding Make Sense for Your Business?
When your business has found increased demand for your product or service when you've taken on larger orders and clients, and constraints in your cash flow when you're not finding yourself with sufficient cash on hand, PO funding allows your business to receive the financial assistance you need and be able to meet customer orders.
As PO funding also covers shipping costs, businesses that work with international suppliers with high shipping fees can find benefit in having these steep, yet essential expenses covered.
Read our PO financing spreadsheet to learn more about if PO funding with Bankers Factoring makes sense for you.
When you discover the benefits of PO funding, find out if your business meets the qualifications listed below.
Who Qualifies for Purchase Order Funding?
Sell to credit-worthy B2B or B2G Customers
Have a minimum gross profit of at least 20%
Have experience with similar products and comparable clients
Transactions per month of no less than $40,000
Physical goods that have been completed and are intended for sale
Provide qualified purchase orders or letters of credit from your customers
Payments from your customers come to Bankers Factoring
Understand more with our article what is trade financing.
Purchase Orders vs. Contracts
Understanding the differences between purchase orders and contracts despite them both being legal documents is important to comprehend the different types of documents you may encounter. In this article, we explored what both entail, as well as the definition of purchase order financing and how it relates to invoice factoring.
When struggles with cash flow continuously plague small and medium-sized businesses like yours, find the solution with invoice factoring and purchase order financing from Bankers Factoring. By combining invoice factoring and purchase order financing, two fantastic financial tools that support cash flow and maintain financial health, Bankers Factoring is able to provide ultimate security and peace of mind for your business.
Ready for Bankers Factoring to fund your entrepreneurial dreams with a combination of PO Funding and Invoice Factoring? Call 866-598-4295 or go to the Bankers-Factoring-Application.