A North Carolina Payroll Funding Company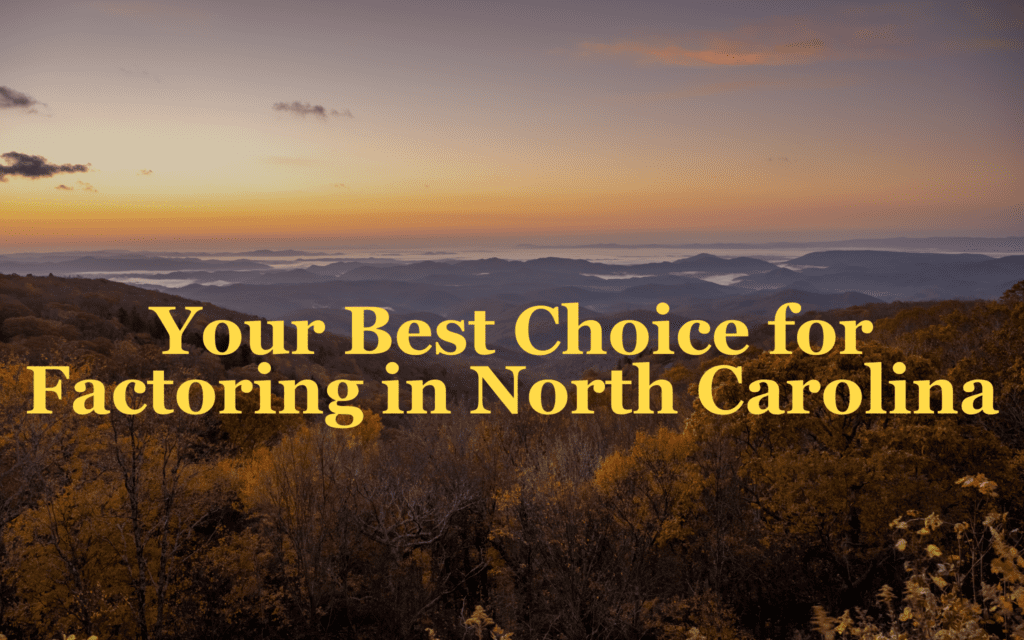 Bankers Factoring: Your North Carolina Invoice Factoring Company
Named America's Top State for Business in 2023 by CNBC for two years in a row, North Carolina is not just home to majestic mountains and beautiful coastlines, rich history, and vibrant culture. She is also consistently ranked as one of the best states for businesses. With its low business and living costs, strong labor supply, higher learning institutions, and regulatory environment, North Carolina prides itself on creating ideal conditions for companies to do business.
Why Choose North Carolina to Grow Your Business?
North Carolina's strong selection of colleges, high quality of life, and strong infrastructure are just a few reasons why NC is a great state for your business to grow and thrive. However, for a B2B or B2G business to grow, you need accounts receivable financing as a financing solution.
With 53 high-quality colleges and universities, including several top-tier research institutions and 17 public universities, there is ample opportunity for North Carolina's population to receive higher education, leading to a robust, highly-skilled workforce. North Carolina businesses have an exceptional worker pool to choose from.
Home to the Great Smoky Mountains and the Blue Ridge Mountains alike, boasting a central East Coast location, comfortable climate, and low cost of living, North Carolina is a place many are proud to call home. With a high quality of life comes a high quality of business, fostering strong opportunities for businesses to succeed.
Also, learn what your CPA needs to know about invoice factoring.
The North Carolina Business Environment
North Carolina also contains a strong, solid infrastructure. Centrally located on the East Coast, there is easy access to any location in the country via extensive highways, railways, and seaports, as well as strong airports providing access to domestic and international locations.
With 14 Fortune 500 companies and 26 Fortune 1000 companies calling NC home, the proof of these reasons is evident, and the ideal business climate of North Carolina speaks for itself.
Why Fund Your North Carolina Company With Invoice Factoring?
Invoice factoring provides critically needed financing to North Carolina businesses and businesses all across the U.S., from Hawaii to New York. But how does factoring invoices actually work?
Once your North Carolina business has successfully completed a transaction and subsequently created an invoice, you can now sell this unpaid invoice to a factoring company like Bankers Factoring. After a quick, easy approval process, we will send you an immediate cash advance on your invoices of 80-93%. We will then collect the payment from your customers ourselves, and once this is completed, we will issue you the rest of the reserves.
Read: why do my customers send payments to the factoring company?
With this simple, quick, and reliable process, you can say goodbye to the headache caused by slow payment and enjoy the full benefits of solid, uninterrupted cash flow. Gaps in cash flow are now a thing of the past, and what was previously a struggle can blossom into opportunity.
Learn more about how invoice factoring works.
Charlotte, NC
With the lowest corporate income tax in the country, affordable real estate, strong industry growth, booming population growth, and strong technology representation, Charlotte, or Queen City, is a strong force in the business world. With beautiful weather, strong educational institutions, plentiful entertainment opportunities, and exceptional job growth, Charlotte boasts a great quality of life. Bankers Factoring is honored to provide our award-winning financial services to Charlotte's flourishing businesses with our local offices.
We know you have many choices in factoring companies in Charlotte, and we hope you consider Bankers Factoring to provide you with critical working capital.
The economy of Charlotte, NC, attributes its strength to these factorable industries that Bankers Factoring is proud to provide for.
Biotech & bioscience
Staffing agency factoring
Wine & spirit factoring
Government factoring
Cable & telecom factoring
Aerospace & Aviation
Beverage production
Trucking factoring
Learn how to talk to your customers about factoring.
What Makes Bankers Factoring Unique to North Carolina?
Low, Easy-to-Understand factoring fees and Costs
Many North Carolina businesses seeking essential funding are put off by fees that are often steep and cumbersome, creating worries that seeking funding may not even be worth it. However, invoice factoring, especially with Bankers Factoring, is one of the cheapest funding methods your business could possibly come across.
Here at Bankers Factoring, we pride ourselves on our low costs, similar to swiping a small business credit card – and they're even cheaper than such. We strive for ultimate transparency, and you will never come across a single hidden fee. And our fees are so simple you could calculate them on a napkin.
Understand further with our article factoring rates explained.
As business owners ourselves, we understand what it takes to run a business. We aren't here to take your money and run: we truly want to see your North Carolina business succeed, and we are here to support and strengthen your company's financial health.
Having trouble finding a business or bank loan? Read our article how to obtain financing after business loan denial and how invoice factoring provides accessibility where traditional loans lack availability. Turn outstanding invoices into same-day, 24-hour working capital.
Bad Debt Protection With Non-Recourse Factoring as a Financing Option
Fear of non-payment is a worry that your North Carolina business may be familiar with. There is only one thing worse than not making a sale: making the sale and never getting paid. When your client is unable to pay their invoices due to credit issues, taking the financial hit can be detrimental to your business.
Bankers Factoring is proud to provide true security for your North Carolina business in the event of non-payment with this unique financial tool: non-recourse factoring. Non-recourse factoring means that if your client is unable to pay due to credit issues, your business will not suffer, and Bankers Factoring will absorb this loss. By doing this, we take all the credit risk off of your hands and provide the true value of peace of mind for your business.
Learn more about the security that bad debt protection provides for your North Carolina business through our non-recourse factoring programs.
The Additional Benefits of Bankers Factoring for Businesses in North Carolina
Discover the benefits that Bankers Factoring provides for your North Carolina business.
Bridging and solving gaps in cash flow
Offer payment terms to grow your business
Fast, highly accessible approval process
Immediate, same-day funding after approval
Low, easy-to-understand factoring rates
A-rated, award-winning services
Costs less than swiping a business credit card
Bad debt protection with non-recourse factoring
Accessible – banks send us their line of credit loan turndowns
The Famous Bankers' light touch with your clients
24/7 online reporting portal
Not based on your credit score or time in business
Sliding scale fees that drop as your business grows
Access to our over two decades of knowledge and expertise
Learn more about why Bankers Factoring is your North Carolina Factoring Company.
Ready for the owner-employees of Bankers Factoring to grow your North Carolina business with our award-winning receivable factor financing, including bad debt protection? Use our fast online factoring application or call 866-598-4295.