What is an MSA in Business?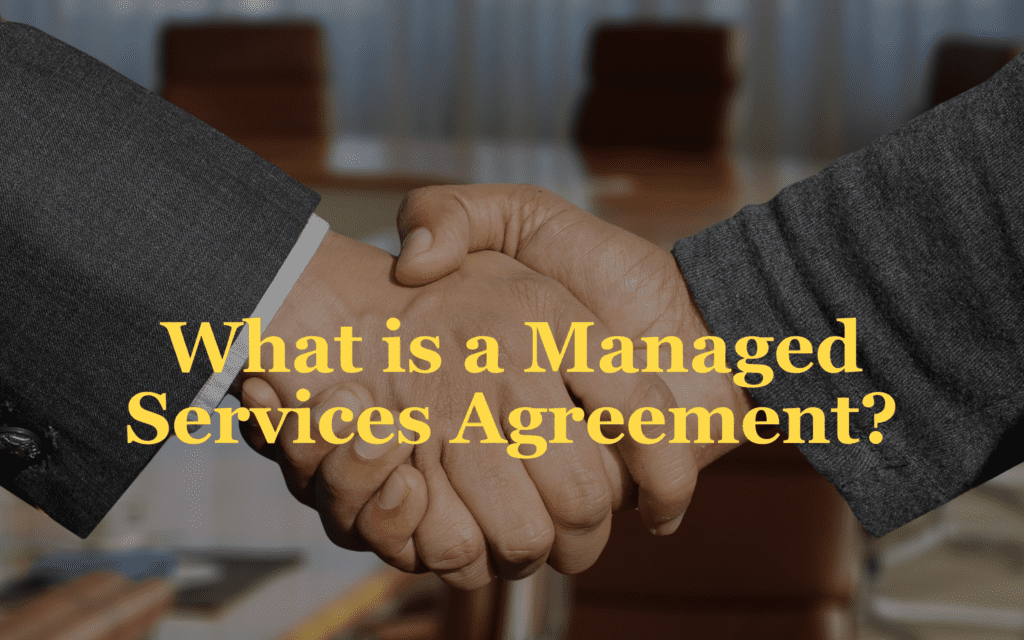 Learn What a Management Service Contract Means.
A managed services agreement, or MSA, is a type of contract detailing an agreement between the provider (known as a managed services provider, or MSP) and their client. An MSA is a senior service-level agreement that defines the terms of responsibility for each party. It includes what services the provider will deliver, the minimum response time, liability protection, and payment structure. Bankers factoring funds MSP's.
Managed Services Agreements for Service Companies.
When your business provides services rather than goods to your clients, whether it's electronics and software, maintenance, marketing, event planning, or any other service, an MSA can benefit the course of your transaction, providing clarity and security for all parties involved.
The terms included in an MSA will determine how the transaction between the provider and the client will be completed and offer legal protection for both parties.
Service Level Agreement or SLA
You will also see the term service level agreement or SLA. An MSA sets the terms and conditions for the services provided by one party to another, whereas an SLA sets the agreed-upon performance standards for an organization's services. Depending on your client, both an MSA and SLA may exist.
Also understand the relationship between purchase orders and contracts.
What is Included in an MSA?
In a typical managed services contract, there are key elements that are often included in the terms and conditions.
Master Service Agreement (MSA) includes:
Type of services
Payment terms and schedule
MSP working hours
Geographic location
Insurance requirements
Who owns intellectual property
Confidentiality
Governing law
Legal fees and attorney's fees
Definition of timely manner
Termination clause
Dispute resolutions
Limitations of liability
Length of the contract
Future agreements and future contracts
Expand your knowledge with our article what is a notice of assignment in factoring.
Why Use a Managed Services Agreement?
Both providers and clients alike benefit from the worth of using an MSA, and using an MSA can set your business up for smooth-sailing transactions. Realistically large companies and governments force both an MSA and LSA on their smaller vendors.
Setting expectations
A well-prepared management services contract efficiently allows both the client and provider to be on the same page about the transaction, creating accurate expectations and security.
Understand traditional loans vs invoice factoring.
Protection from lawsuits
Any potential for lawsuits is brought to a minimum, as the responsibilities expected are clearly defined, leaving less room for potential disputes.
Consistent profitability
Many managed services agreements are set on monthly payments, so the provider can be confident in their profitability.
Ongoing business relationships
By creating clear expectations, MSAs often assist in establishing and fostering business relationships between the provider and the customer that allows for stable, ongoing work.
Have you found yourself turned down for a business loan? Read how to obtain financing after business loan denial.
Risk Mitigation with Management Service Contracts.
As with any contract, risk mitigation is essential to protecting you and your business, and there are strategies to do so when dealing with a managed services agreement.
When the service business is outlining the types of services provided, it is also important to outline the services that the provider will not deliver. Including provisions for insurance and indemnification is also helpful. Furthermore, try to resolve any potential issues early during the negotiation process, leaving less risk for disputes further down the business relationship.
Also, share with your accountant what your CPA needs to know about invoice factoring.
Managed Services Agreements and Invoice Factoring
When providing services to your customers with management service contracts, your customers may come across issues in cash flow that cause slow or delayed payment. This can subsequently block up your cash flow, creating difficult gaps that affect your performance and ability to best provide your services.
Read our comprehensive guide to invoice factoring.
In this scenario, invoice factoring is a simple situation. When you've found yourself stuck waiting for your payment, turn this issue around by selling your accounts receivable, or invoices, to an invoice factoring company like Bankers Factoring. This process will allow you to transform your unpaid invoices into immediate, safe, and reliable critical working capital, allowing you to cover expenses like employee salary, equipment, transportation, and any operational costs you may deal with.
Keep learning with our article how does a factoring company work, and how they can help your MSP grow and thrive.
What is Invoice Factoring? How Does it Benefit My MSP?
Once you have delivered your services to your customer and an invoice is created, you can now sell this invoice to us. We will, in turn, provide your MSP with an immediate cash advance of up to 80-93%. The invoice factoring approval process is simple, quick, and accessible, and you are able to receive this funding through cash advance at the short turnaround of same-day funding after approval.
We then collect the payment from your customer, taking the burden off your hands. Once the payment is collected, we will issue you the rest of the reserves minus a small factoring fee that costs less than most business credit cards.
Any more questions? Leave no leaf unturned with our invoice factoring FAQ.
Why Factor Your Invoices with Bankers Factoring?
While discovering the benefits of invoice factoring with Bankers Factoring, it becomes clear to see why Bankers Factoring is the best choice for funding when you deal with MSA's as an MSP.
Quick, simple application and approval process
Low rates like swiping a credit card
Clearly defined terms and no hidden fees
Fees that drop as your business grows
Bad debt protection with non-recourse factoring
High accessibility – many banks send us their loan turndowns
Access to our over two decades of expert knowledge
Start-up friendly and bridge gaps in cash flow
Famous Bankers' light touch with your clients
Increased financial health and security
Approval is based on your client's credit, not yours
We take on the credit risk, protecting your credit
Learn even more about why choose Bankers invoice factoring.
Protection from Non-Payment with Non-Recourse Factoring
What happens when your customer experiences bankruptcy, insolvency, or protracted slow pay? Is your service company now left with hefty bad debt, scrambling to make up the loss? Thankfully, with Bankers Factoring, this turns from a very real fear into a non-issue.
Bankers Factoring offers something truly unique to your service provider business: non-recourse factoring. With non-recourse factoring, if your client becomes unable to pay, we will cover this loss for you, protecting you from bad debt and taking on the credit risk.
Worries of non-payment will become irrelevant, melting away. Bad debt protection with non-recourse factoring provides safety, security, and confidence, and Bankers Factoring is honored to be able to protect your service company.
Understand even more about the benefits of non-recourse factoring.
Understanding Managed Service Agreements
As an MSP or service provider company, you now understand the definition of a managed service agreement and the benefits it can provide, as well as its relation to invoice factoring.
Don't leave an on-time payment up to chance. Factor your invoices with Bankers Factoring today and feel confident in the safety and security that our award-winning services provide.
Ready for the owner-employees of Bankers Factoring to grow your business with our award-winning receivable factor financing, including bad debt protection? Use our fast online factoring application or call 866-598-4295.