Invoice Factoring versus Selling Stock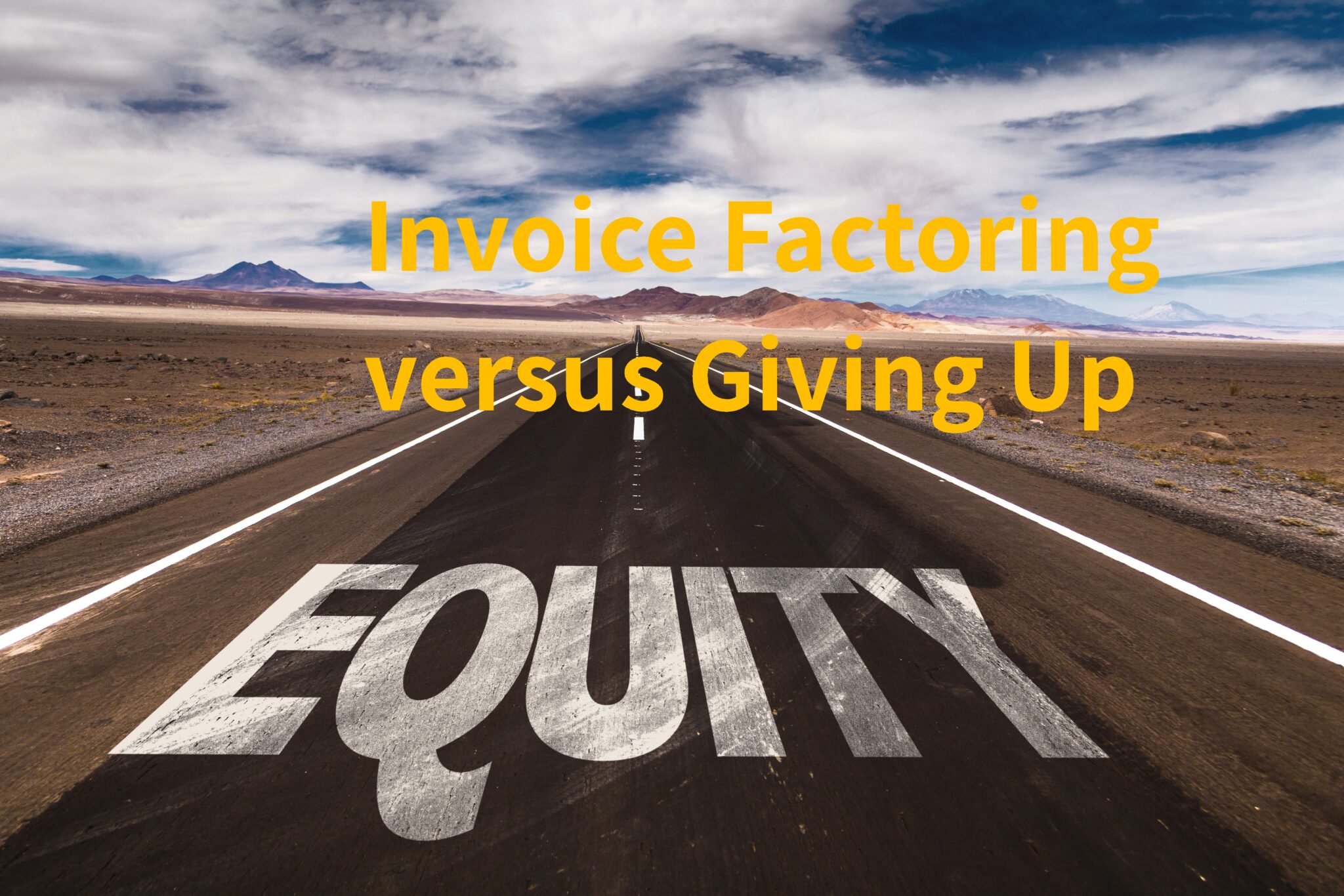 Unlimited Working Capital with Bad Debt Protection versus Ownership Dilution
Non-Dilutive Funding versus Selling Equity
Finding ways to finance a new business is challenging without giving up ownership or equity shares. However, invoice Factor Financing provides capital funding without debt or equity funding. With non-recourse invoice factoring, there is no ownership dilution by selling stock.
Rather than loan financing or selling ownership, you can sell unpaid accounts receivable (A/R) to achieve your cash flow needs. Additionally, factoring invoices or invoice factoring adds the value of bad debt protection, meaning your financing source is secure from uncollected receivables.
How to Finance Your Business Without Giving up Equity
As entrepreneurs, we have the best intentions for our startup but require capital funding or business financing. So it is no wonder that 70% of businesses fail within two years. Poor financial management, lack of funding, and inexperience lead to cash flow disasters and business failures. However, startup business funding is more accessible now with Bankers Factoring invoice factoring services.
Contact Bankers Factoring today to learn how to sell unpaid A/R invoices for immediate working capital. We work with businesses like yours to provide alternative financing – not equity or debt funding – where your capital structure changes.
In this article, we cover the following:
How can I fund my business without equity dilution?
Equity vs. debt financing
What is the right finance strategy for my business?
How to raise capital without giving up equity
Benefits of business funding without selling ownership
How can I fund my business without equity dilution?
Funding your business without selling ownership or equity is critical for your profitability. In fact, many forms of funding are available such as debt or equity financing. But if you take on equity financing, your firm will be stuck with new covenants or terms to operate within. However, it is possible to not give up equity in your company with the following maneuvers.
Ways to fund your business with no money:
Grants: the government extends up to $100,000 in funding for businesses. There are four types of grants available for businesses.
Friends and Family: to be considered a gift, funding needs to be under $15,000 to avoid tax consequences
Small Business Administration (SBA) Loans: your business must have two years of operations, annual revenue exceeding $100k, and good credit.
Asset-based lending (ABL): if you have real estate or other assets, you can secure funding with those assets as collateral.
Crowdfunding: enables multiple investors to contribute funds through web and social media channels
It is common for entrepreneurs to seek angel investors, but most cases entail selling equity to close the angel funding. Therefore, Bankers Factoring offers funding without giving up equity through non-recourse factor financing. So complete an online funding application to begin non-equity financing today!
Keep reading Sell Your Invoice to the Best Factoring Company.
Equity versus Debt Financing
In business funding, the two common types of financing are equity and debt. Debt financing refers to adding liabilities on your balance from lines of credit or loans requiring monthly interest and principal payments. Equity funding refers to capital financing from selling an ownership stake or shares in your company.
Businesses currently operating have the option to secure alternative financings such as invoice factoring and PO financing. Bankers Factoring, a factoring company, provides alternative funding options for small businesses, startups, and growing companies unable to get bank funding.
Keep reading Factoring Company: What it is and Your Best Choice.
What is the right finance strategy for my business?
There are different ways to fund a business, including debt, equity, and alternative financing, such as invoice factoring. Raising capital by giving up equity can be difficult. Financing through equity can put your business in a compromised position.
Deciding how to finance your business is a critical decision. The capital structure of your business might have a mix of debt and equity funding sources. It is important not to sell your future profits by giving up equity, and funding options better suit growing companies.
How to raise capital without giving up equity
The appeal of equity financing is intense, with the premise of receiving capital injections without monthly payments. Equity and debt funding solutions present problems to your business struggling with cash flow. Debt financing, such as ABL, can be more cost-effective than other capital sources. Raising capital through alternative financing like factor financing allows your business to sell unpaid receivables for working capital.
Factoring finance is how your business can secure consistent working capital without reducing ownership stake and managing monthly debt repayments. Raising money without giving up equity is simplified with Bankers Factoring invoice factoring services. Get finance without giving up equity or selling stock.
Keep reading Invoice Funding through Factor Financing.
Benefits of business funding without selling ownership
Non-recourse factoring services provide the advantage of capital injections without equity-based financing. By selling unpaid accounts receivable (A/R), your business receives fast cash flow, takes on no debt financing, and retains its current ownership stake. The best part of factor financing is our bad debt protection – you do not need to worry if your customer becomes insolvent, bankrupt, or slowly pays invoices.
Keeping control of your business
Debt or Selling A/R can be more cost-effective
Improved free cash flow
Fast funding
Outsourced credit department without Credit Insurance
Ready for the owner-employees of Bankers Factoring to help you grow your business without ownership dilution through invoice funding with bad debt protection? Use our fast online factoring application or call the toll-free number 866-598-4295