Cash Flow Solution for Court Stenographers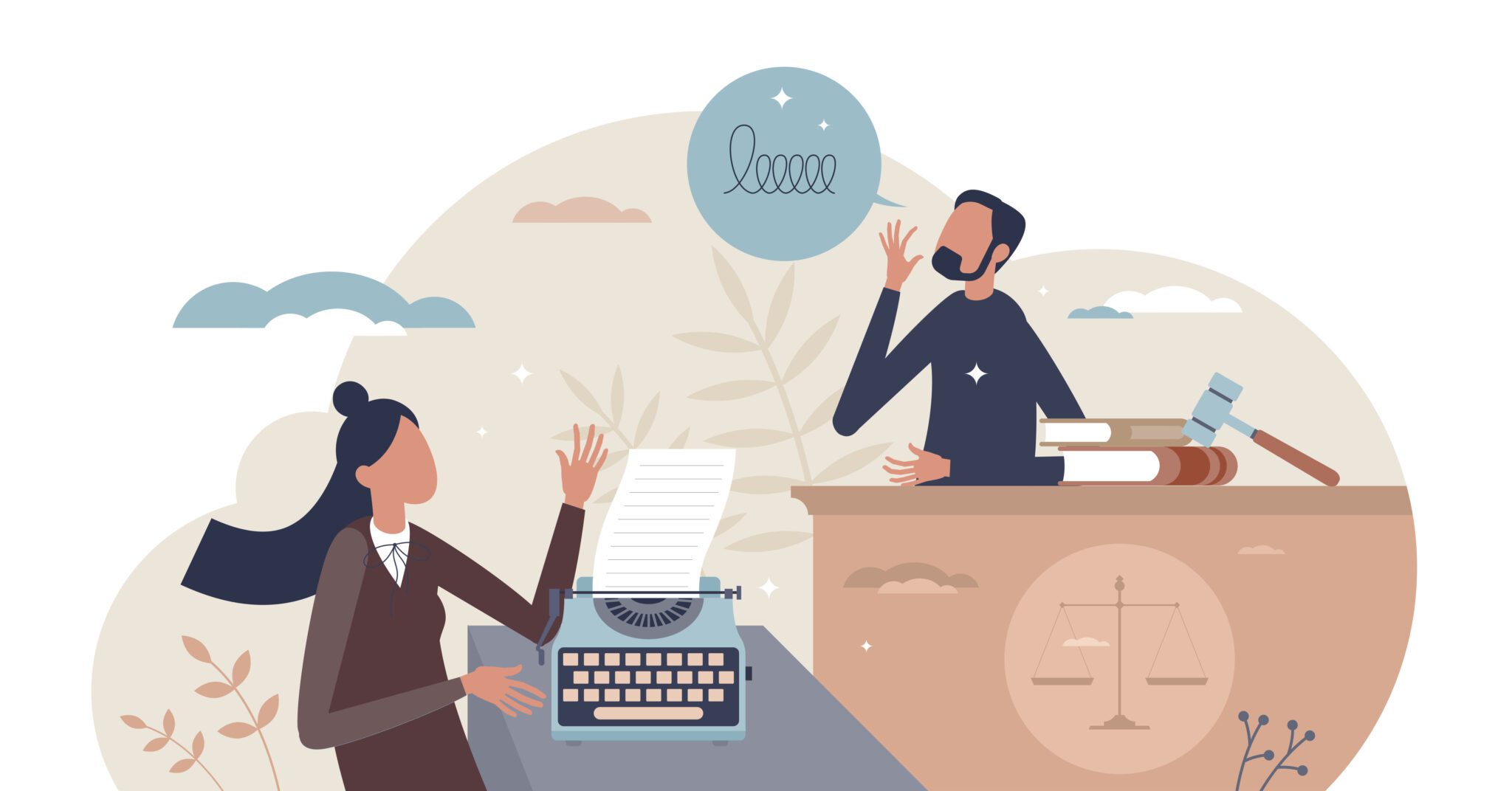 Uncertainty in the financial system from recent bank failures, rising consumer debt, and inflation contributed to Goldman Sachs raising their odds to a 35% chance of a recession (NBC). With the growth in court reporters and remote depositions, being an independent government contractors or small businesses, need financial tools to overcome potential cash flow issues. Services including court reporter and litigation support services, accounts receivables can easily be turned into fast working capital through an invoice factoring company.
A court reporter is a professional independent or court stenographer who works for a court, attorney, or law firm. Also called a stenographer or reporter, this industry provides services to capture and record live court proceedings into official legal documents. It is common for service providers to extend credit terms, causing the reporter to wait months for payment.
Court Reporter Needs Cash Flow Help
To avoid cash flow issues by providing government contract services or law firms (who can take 90 days to pay), you can sell your unpaid invoices immediately after rendering services – Government Factoring. By selling Bankers Factoring your invoices, you bypass the wait for customer payment. Invoice factoring for court reporters reduces gaps in cash flow, allowing you to keep up with bills such as rent, insurance, taxes, and business expenses.
Most court reporters work full-time, but some companies offer outsourced services on contractual agreements. Also, other court reporters are placed through a staffing company where Staffing Factoring services can help business owners have the working capital to fund operations. Small business owners worrying about finances can use outstanding invoices to overcome market uncertainty.
Types of Companies That Use Factoring
Companies of all sizes, industries, and across the spectrum of business models use factoring. Selling invoices is a universal method for startups, government contractors, court reporters, and simultaneous captioners to finance their businesses.
Companies factor steno agency invoices to offset cash shortages caused by extending credit terms to customers and offering weekly pay to reporters. Moreover, in government services such as court proceedings, it is common for businesses to offer NET60 billing terms. It is hard for any contractor or company to operate when you receive payment two months after services.
Factoring helps businesses achieve their goals by providing them with the capital they need to grow their operations without relying on traditional bank loans and lines of credit. In addition, obtaining stenographer financing is much faster and easier than applying with major financial institutions.
Related article: What Industries Use Factoring?
How Does Court Reporter Invoice Factoring Work?
Invoice factoring is a type of financing that allows a business to sell its invoices at a discount. The factoring company pays the business immediately and manages the receivable process on your behalf.
In this way, invoice factoring allows you to use the funds from your invoices right away instead of waiting for payment from your clients–and it also gives them access to the working capital they may need to pay their bills on time.
Court reporter funding removes the stress of customers paying the invoices and focuses on producing complete invoice amounts.
Related article: How Invoice Factoring Works
Qualifying for Factoring Services
The process of qualifying for invoice factoring services is rather simple. It begins with completing an online funding application and including copies of your:
A/R Aging Summary: This is a breakdown of your open or unpaid invoices by customers across multiple periods such as current, 31+ days, 60+ days, 90+ days, and over 120 days old. Also, including a copy of the invoices will save us time during approval.
Bank Statements: We need the last three months of bank statements to verify your business.
Personal Identification: We verify the legitimacy of your application by requiring proof of identification, such as a driver's license or passport.
With these pieces of information in your application, we verify your unpaid invoices with your customers to determine the quality of your unpaid invoices. Also, we conduct a soft credit pull of all business owners – this report provides us the information necessary to approve your financing without negatively impacting your credit score like a hard pull.
The Process of Obtaining Working Capital in Invoice Factoring
The steps of an accounts receivable (A/R) factoring transaction are standard across most industries.
Deliver court reporting services on credit payment terms
Complete an online funding application
We verify the credit quality of your unpaid invoices and your business owners.
We approve your cash funding within five days of your completed application.
Once you sign your factoring agreement, we deposit your initial cash advance the same day. This capital injection ranges from 80 to 93%.
Lastly, once your customers pay Bankers Factoring, we release the remaining unpaid balance, less our small factoring fees (discount rate).
What are The Risks Associated With Factoring?
The risks of selling invoices differ from bank loans which require monthly payments. However, the largest risk in factoring stems from customer non-payment. Furthermore, this risk can be mitigated by utilizing Bankers Non-Recourse Factoring services.
Non-recourse factoring diminished substantial risk by providing bad debt protection to you. In essence, your company receives protection from customer default, such as short payment, bankruptcy, or lack of liquidity (insolvency). Court reporter financing is more stable with credit protection against uncollected A/R.
We take the Credit Risk
Bankers Factoring covers your losses or bad debt expenses when we buy your invoices. Our clients implement factoring services to improve cash flow. We protect your cash flow financing and business from unforeseen losses.
Court reporting companies and government contractors greatly lower their risk when selling unpaid invoices to the best factoring company. Government entities such as local, state, and federal courts have a strong history of paying bills on time, which helps you lower your factoring rate and risk.
How Much Does Factoring Cost?
Factoring fees are typically a percentage of the invoice value. For example, if a court stenographer firm sold $50,000 worth of invoices, factoring rates start at .9% to 1.5% per 30 days, depending on your unique situation.
Your factoring or discount rates are removed from your customer payments. These rates are not items your company has to pay with cash – Bankers Factoring handles it for you in your final cash advance.
When starting with your new factoring company, other fees are incurred, such as:
Origination fees
Management fees
Wire transfer fees
Maintenance fees
Other fees established in your factoring agreement
Read the full article, Factoring Rates and Fees Explained.
Top Reasons to Sell Invoices to a Factor
Get access to working capital after a bank loan denial.
Get paid immediately, even if you're waiting for your client to pay their bill.
Bankers Factoring acts as your outsourced A/R and credit department, allowing your staff to focus on operations. We take the credit risk.
Tap additional financing as your business grows – selling invoices is a flexible solution.
Please read what are invoice factoring services.
Court Reporter Factor Financing
Factoring is a tool that can be used by any business, but it's especially beneficial for court reporters working on credit terms. It allows you to get cash now for your invoices and avoid rising interest rates at banks.
You have receivables for $50,000 with defer payments of 60 days. For cash flow, you could sell your invoices to Bankers Factoring, bringing your business up to 93% of the total value through the factoring advance. You then get the balance less our fee when your clients pay. Get paid immediately, improve your cash operations, and acquire more reporting work.
Ready for the owner-employees of Bankers Factoring to grow your business with our award-winning receivable factor financing, including bad debt protection? Use our fast online factoring application or call 866-598-4295.